---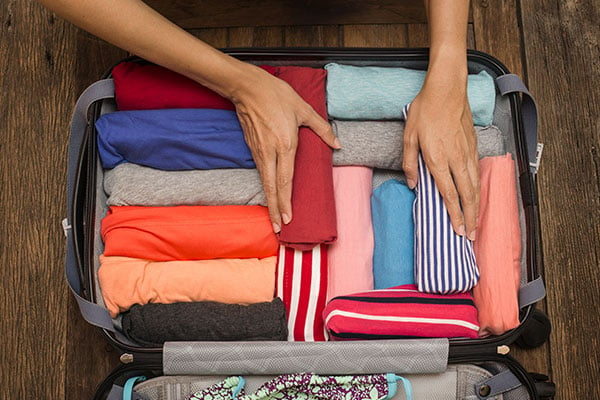 Few things are as frustrating as unpacking your suitcase to find a wrinkled set of clothes. The friction created in such a tight space causes these wrinkles, meaning your wardrobe and your suitcase aren't always the best combination.
If you want to end stress and wrinkles, adopt some of these helpful tips for your next vacation. Here's how to pack a suitcase without wrinkles taking over your travels.
How to Roll Clothes for Packing
Rolling your clothes may sound strange, but it has several benefits. Packing your clothes the traditional way causes bends and creases in the fabrics. Rolling allows your garments to maintain their smoothness. It's ideal for casual fabrics and garments.
If you're rolling jeans, fold one pant leg over the other and roll from the ankle to the waistline. When folding a dress shirt for travel, fold the sleeves over on the back and then fold the shirt in half to form a rectangle. Roll the rectangle from bottom to top. This technique is straightforward, prevents wrinkles, and saves space.
Overlap Garments
If you're packing delicate fabrics, dresses, dress pants, or skirts, try overlapping your garments. Lay the bottom half of the garment flat into the suitcase, and then layer other clothing on top. This can include your rolled jeans and folded knits. Items placed this way act as a cushion for the other half of the garment.
Once everything is in, take the top half and fold it down. This technique works to reduce the number of creases and folds so that your clothes stay smooth.
Bundle Up
Oddly enough, when you bundle your clothes around each other, it keeps the outermost layer of clothes wrinkle-free. This method works because your clothes spread out across the surface of the bundle, rather than getting squished and succumbing to friction and wrinkles. Instead of wadding your clothes into a ball, follow these steps to ensure your clothes come out wrinkle-free.
Select a solid item, such as a toiletry bag, to be the center of your bundle. You will build the bundle of clothing around this nucleus.
Begin wrapping your nucleus with your most casual or wrinkle-resistant items of clothing, like thick sweaters. Place the bundle just below the neckline of the sweater, then fold each sleeve over the bundle. Be sure to tuck sleeve ends tightly under the bundle. Wrap the body of the sweater up and over the nucleus.
Next, wrap pants around the bundle. Set the bundle on top of the pants' waistline, then fold the pants up and over the bundle as many times as necessary until you've wrapped the nucleus.
Add short- and long-sleeved shirts to the bundle next. Wrap the shirts using the same folding technique you used for the sweater in step two.
To prevent items like skirts and dresses from wrinkling, save them for the very outside of the bundle. Wrap these items like you wrapped the pants.
You should end up with a bundle that is rectangular in shape. The amount of clothing items you can pack with this method depends on the size of your suitcase and what it will allow. For carry-on luggage, you may be able to fit one large bundle or two small ones.
Pack in Bags or Folders
Packing your clothes in packing cubes or organizers within your suitcase can reduce friction and keep your clothes organized. Packing cubes allow you to stay organized without overstuffing your bag. You can pack outfits for each specific day into one packing organizer, which makes planning a lot easier.
Dry-cleaning bags and plastic bags are great options if you don't want to invest in packing cubes. Some travelers use packing folders. These offer a briefcase-like design that keeps garments concealed and stored tightly.
Pack Lightly
Perhaps the best way to prevent wrinkles is to pack lightly. When you book with YMT Vacations, you'll have a good idea of what your days will look like, so you can plan your outfits. Travelers usually overpack when they aren't sure of what they'll be doing. Know your itinerary ahead of time so you can plan your outfits accordingly.
Pack Wrinkle-Resistant Garments
If you don't want to rely on these handy methods, try packing wrinkle-free clothing for travel purposes. Fabrics such as nylon, polyester, wool, cashmere, knits, and lycra are good choices. Several of these materials are anti-microbial and quick-drying as well.
If you're not sure if a fabric is wrinkle-resistant, give it a quick wrinkle test. Grab the corner of the material tightly for 30 seconds and then shake it out. No wrinkles? No problem.
What If My Clothes Wrinkle Anyway?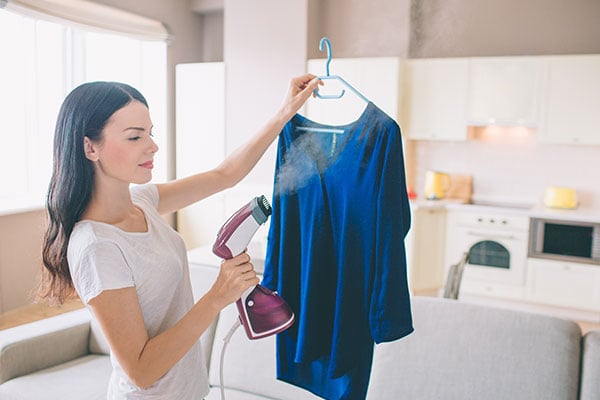 Aside from your best efforts in keeping your clothes wrinkle-free, you can always follow these tips to ensure that your garments are ready to wear. Hang up your clothes immediately to help loosen some of the wrinkles out, if there are any. When you take a shower, hang the clothes nearby so the steam can reach them.
If your hotel has a dryer, running a quick cycle can make a drastic improvement. If you want an additional line of defense against wrinkles, pack a travel steamer and TSA-approved wrinkle spray. The spray helps with wrinkles, eliminates odors, and prevents static cling.
Look Good and Feel Good
Wrinkles are inevitable, but these tips will help better protect your clothes while you're out exploring the world. Roll your clothing, bundle it up, divvy your clothes into packing organizers, pack lightly, or try to opt for garments that are less prone to wrinkles. If you follow these steps, you'll wear clothes that will make you look and feel good during your travels with YMT vacations.
To learn more about YMT Vacations guided tour destinations, call our Travel Consultants at 1-888-756-9072.
---