---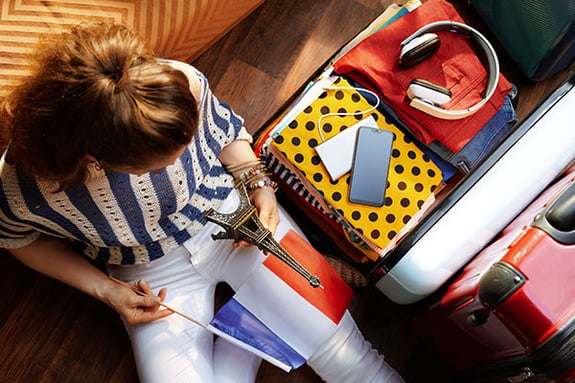 One of the most rewarding ways to look back and reflect on a trip is through the souvenirs, mementos, and keepsakes. It's also fun to choose the right gifts for your friends and family back home. After collecting your gifts and souvenirs, you must then assess how to get them all home safely and in the most cost-effective way.
Did you leave room in your suitcase, and if so, what's the best way to pack your items to keep them safe? Is shipping your items perhaps the wiser strategy? Follow our travel packing hacks, tips, and tricks to help you choose the best option to suit your needs.
Create a List of Purchases as You Go
Organization is the key to any successful trip. Make a list of items as you acquire them, so when it's time to pack, you won't forget anything. Then organize the list by items that should be shipped home or packed in your checked luggage or carry-on bag.
Ship Your Items Home
If you have the option to ship your souvenirs, it may be the most convenient choice. Shipping could also be quite expensive depending on the number of items and their weight, especially if you're traveling internationally. Before shipping your items home, get an estimate of how much it could cost. If the cost of shipping outweighs the surcharge you'll face for an overweight suitcase, you may be better off packing your it
If you do decide to ship your items, ensure you get a tracking number. Check to see if shipping insurance is available as well, especially for high-value items. These resources will make it easier to keep track of your shipment, as well as protect you if anything should get lost during the journey.
Don't Pack Expensive Souvenirs in Your Checked Suitcase
From Vietnamese ceramic vases to handcrafted German Cuckoo Clocks, some items are too valuable to pack in your checked luggage and instead warrant a prime space in your carry-on bag. If your checked luggage gets lost and doesn't arrive at your destination, you'll feel secure knowing you kept your most valuable items by your side on the plane.
Remember that items that contain a great deal of liquid must be carefully packed in a checked suitcase, or as mentioned above, shipped home. And if you're planning on shipping items such as alcohol, perfume, or perishable items, check to ensure you can legally ship it back to your home state.
Carefully Pack Fragile Items in a Suitcase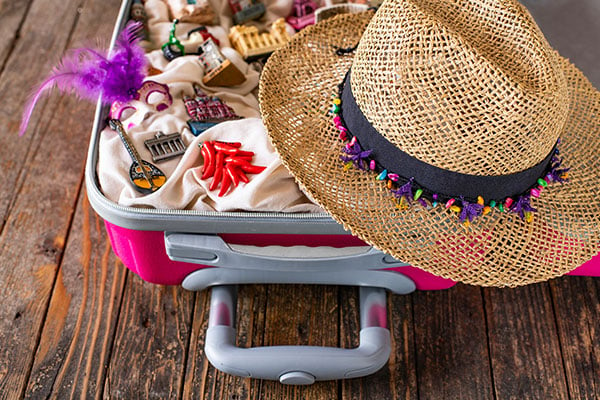 If you absolutely must pack fragile items in your suitcase, the best way to protect your especially breakable souvenirs is by wrapping them with clothing which acts as a makeshift bubble wrap. Stuff underwear or socks in the pockets of items such as coffee mugs and glasses. Place fragile items toward the middle of the suitcase, at least five inches away from its walls and at least two inches apart from other fragile items.
Ensure You Don't Lose Small, Valuable Items
To avoid losing small items like jewelry, pack a few zip-lock bags in your luggage before your trip. If you end up buying a necklace or bracelet during your travels, pack each one separately in its own zip-lock bag so they don't tangle with each other. Pack the bags in your carry-on to prevent them from getting lost. Place very small items inside an extra eyeglasses hard case to keep them protected and safe.
Pack Smartly to Make the Most of Your Guided Tour
When you're on your trip, be smart with your purchases. If you lay eyes on a souvenir you love, consider whether it would fit easily in your luggage or if it would be cost-effective to ship. A large, expensive rug may require more thoughtful planning, while a priceless, small memento may easily tuck into your carry-on. As long as you start the trip off right by only packing the things you need, you'll have plenty of room for the collectible keepsakes you'll cherish long after you return.
As you get ready to explore parts of the world you've been dreaming of, use our step-by-step checklist to prepare for your international journey. And to make the most of your time, connect with YMT to book a guided tour, so you can leave the details to us while you simply enjoy packing for your trip. To learn more about YMT Vacations guided tour destinations, call our Travel Consultants at 1-888-756-9072.

---