---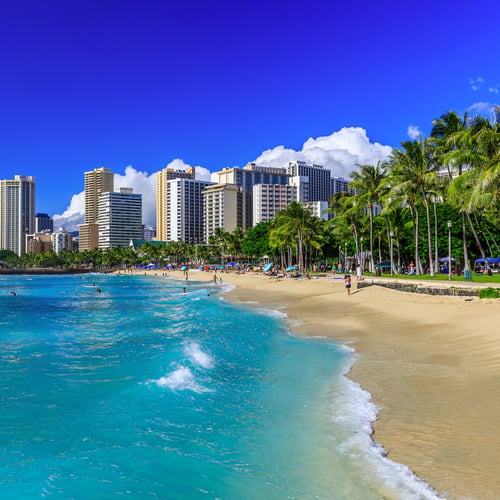 Hawaii's Waikiki Beach is like a scene from a movie set. Bronzed surfers walk the length of longboards sailing over white-capped waves as children race to build castles in the sand before the rising tides carry them away. There are vacationers attempting the hula while giddy girls slather on sunscreen while reclining in the sun. It is the iconic beach you've always dreamed of, the ideal getaway that even reality can't spoil.
---
The playground of the Pacific, Waikiki is picture-postcard perfect. It's where pristine white-sandy beaches meet turquoise-colored water and fiery tropical sunsets set the iconic slopes of the Diamond Head Crater ablaze. It was the inspiration for Elvis and his Blue Hawaii, and the sounds of Harry Owens and his legendary band. There are tropical parks and an outstanding aquarium, the Honolulu Zoo and the International Marketplace, a shopper's paradise.
Originally a retreat for Hawaiian royalty in the 1800s, the elite would come to Waikiki Beach to surf on the earliest forms of longboards. Its name, 'sprouting fresh waters,' was a tribute to the many springs and streams that gathered in the Ko'olau Mountains and drained into the fertile valley. It was the site for an epic warrior battle and the seat of Kamehameha the Great, home to the Outrigger Canoe Club and a host of bathhouses -- the first of Waikiki's hotels.
Today's Waikiki offers something for everyone. You can learn to surf on the gentle waves that approach the beach or stroll along sugary-sand shores, learn to strum a ukulele or visit the moving USS Arizona Memorial at Pearl Harbor. There is world-famous dining and an exciting nightlife scene, luxurious spas and water activities for the whole family.
---
Waikiki Beach stretches to the Kuhio Beach Basin where a bronze statue of the famous surfer, Duke Kahanamoku, welcomes you with outstretched arms. Come explore this iconic playground for yourself and discover what awaits you with the dawn of each new day in paradise. Just don't forget to throw a flower lei into the ocean before you leave -- it's the surest way to guarantee you'll return again! You can experience Waikiki and Hawaii's other treasures on any of YMT Vacations' Hawaiian vacations. To learn more or to make your reservations to join us, call your travel agent or 1-888-756-9072.
---