---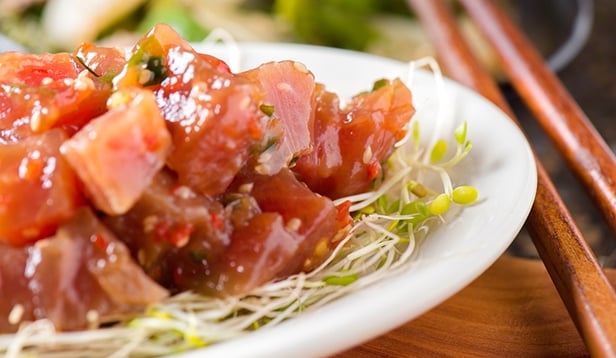 Poke' is as synonymous with Hawaii as cheesesteak is with Philadelphia. You'll find it everywhere from food trucks and gas stations, to grocery stores and surf shacks. For years, locals have been enjoying poke' out of plastic storage dishes while seated on the hoods of cars or standing in food parks overlooking the beach. But recently, poke' has made its way ashore, finding a place on upscale restaurant menus across the mainland. So just what is it? And, why should we by rushing to try a bite of this Hawaiian raw fish recipe that is suddenly getting its due?
---
Traditionally, poke' is the Hawaiian version of sashimi. However, instead of slicing the fish, raw tuna is served in bite-sized chunks seasoned with soy sauce, sea salt, Maui onions, or even seaweed. But that's only the beginning. Today, poke' has come to mean anything chunked and there are as many varieties as your mind can imagine, from shrimp to octopus. Much more accessible and low-key than ceviche or tartare, what began as the working man's lunch still finds a home on top of rice and tortilla chips even as it reaches its heights in trendy eateries. Here's a basic recipe to give you an idea of what we're talking about:
Basic Ahi Poke'
2 pounds fresh tuna steaks, cubed

1 cup soy sauce

3 green onions, chopped

1 small onion, julienne cut

2 Tablespoons sesame oil

1 Tablespoon toasted sesame seeds

1 Tablespoon crushed red pepper (optional)

2 Tablespoons macadamia nuts, finely chopped

Hawaiian sea salt, kosher salt or fresh ginger to taste
Combine ingredients in a medium-sized bowl, mix well and refrigerate for at least 2 hours prior to serving. Serve in a chilled bowl with chopsticks.
---
You can enjoy the fresh-from-the-ocean flavors of poke' for yourself on one of YMT Vacations' Hawaii adventures: Ultimate Hawaii Tour and the Hawaiian Islands Cruise & Tour. These thrilling excursions take you across the tropical Hawaiian islands from the world-famous Waikiki Beach to Volcanoes National Park, the mystical Fern Grotto to the moving site of the USS Arizona Memorial. To learn more, or to make your reservations to join us on an upcoming vacation, call your travel agent or 1-888-756-9072.
---