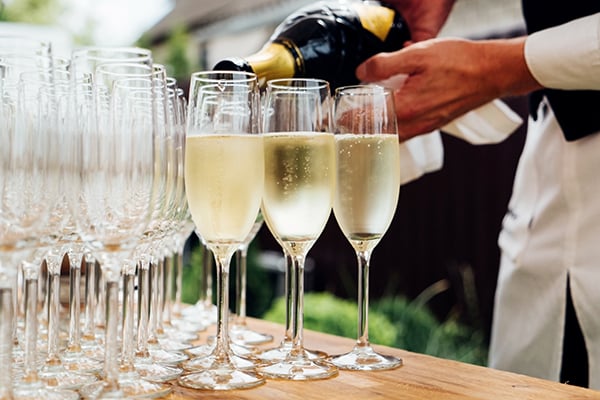 Tiny bubbles, and the perfect balance that wine connoisseurs call "finesse," are signatures of champagne. They are why a bottle of champagne elevates an event into a celebration—and the reason champagne drinkers are happy to pay such a premium.
About Champagne, France
Champagne, France is the only place in the world that can produce champagne.
Sparkling white wines can come from anywhere. To earn the name champagne, a sparkling wine must come from one of five wine-producing districts within this one historical province of northeastern France.
The exclusive title imparts more than just geographical information. The soil in the region gives champagne a flavor and lightness that simply can't be matched.
Champagne Flavors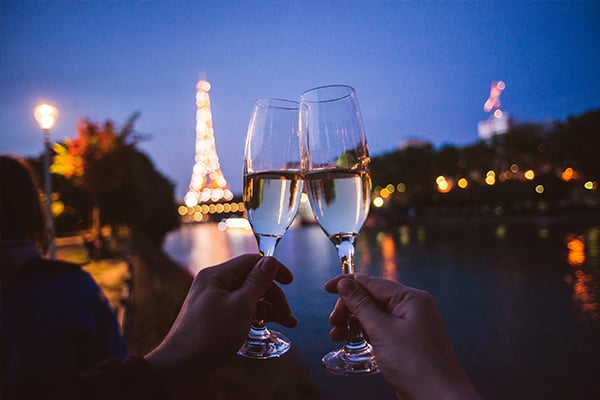 There are numerous champagne flavors to choose from. You can expect champagne flavors to lie on the Champagne Sweetness Scale.
This spectrum runs from dry and crisp to sweet and fruity.
Extra Brut: The driest, crispest, least sugary champagne flavor.
Brut: Dry, but not acidic. This is the most popular champagne flavor and goes very well with all sorts of foods.
Extra Dry: Somewhat dry. It's very easy to drink, and makes for a terrific aperitif.
Demi-sec: Demi-sec is fairly sweet. This dessert wine is a delicious option for light drinkers who prefer something with more body and less bite.
Champagne Styles
Champagne comes in many different styles, as well as flavors. The style is either based on the type of grape used, or on the champagne's overall quality. There are four main champagne styles.
Prestige Cuvée
The champagne of champagnes, prestige cuvée is the best of the best. Made using the finest grapes from the top vineyards, prestige cuvée shows what a winemaker is made of.
These flagship champagnes are the ones most often name-checked and used to toast happy couples at 6-figure weddings.
Prestige Cuvée champagnes are as prestigious as their name suggests—and they bear the price tag to prove it. This is the most expensive type of champagne. Expect to pay three or more times more for Prestige Cuvée than other bottles of champagne from the same producer. The most famous examples of Prestige Cuvée are Louis Roederer's Cristal and Moët & Chandon's Dom Pérignon.
Blanc de Blancs
Blanc de Blancs translates to white from whites. That means that this champagne style is made exclusively from white grapes, traditionally Chardonnay.
With its subtle flavor and light mouth feel, this is the perfect champagne to sip while enjoying a delicious meal. Most of the champagnes you see at fine restaurants are classified as Blanc de Blancs.
Blanc de Noirs
Translated as white from blacks, Blanc de Noir champagnes are made using black skinned grapes.
Pinot Noir and Pinot Meunier grapes are pressed very lightly. This allows them to release their juice but none of their dark pigment into the champagne. The final color ends up so light it almost looks clear, with a rich and full-bodied flavor.
Rosé
Rosé is a delicious champagne style made with a blend of white and black grapes. The deep red skin of the black grapes gives Rosé a distinctive pink color, which is strikingly beautiful and irresistibly festive.
The flavor of Rosé champagne varies based on the producer. It's usually fairly crisp and bright, rather than sweet. Rosé is perfect for celebrations. The color—ranging from pale blush to vibrant coral—photographs beautifully.
How to Serve Wine Like a Grand Maison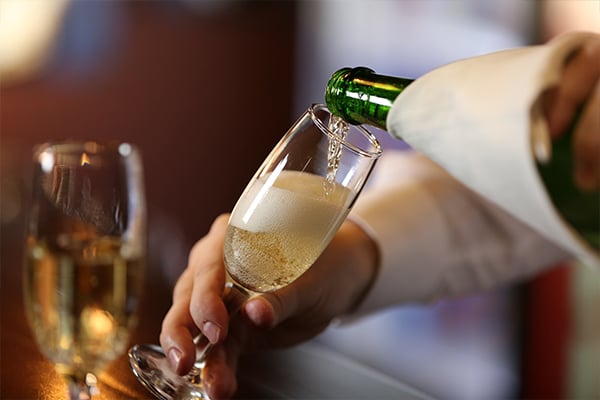 Champagne is more than just a drink—it's an event.
The pomp and circumstance of serving champagne is legendary. It's so serious that there is a 130-year-old Union of Champagne Houses, the Union des Maisons de Champagne, committed to doing it the right way. This professional group consists of the Presidents of 84 Champagne Houses.
They set the standards on everything from the right glass to use to how to hold the bottle when you pour.
Champagne should be chilled, but not frozen. And if you're ever tempted to put ice in your glass—don't. To cool your champagne to the appropriate 42°-50°F, store the unopened bottle in the refrigerator or in a champagne bucket filled with ice cubes.
Use a crystal tulip-shaped glass to properly savor your champagne. The broad shape and narrow top "wakes up" the champagne. Enjoy perfect bubbles and a fully expressed aroma while you hold your elegant glass by the stem.
Opening a champagne bottle takes a bit of practice, but the dramatic effects are worth it every time. After removing the metal wire from the top, tip the bottle slightly and gently free the cork. Be sure the bottle hasn't been shaken up by any naughty children, or your dreams for a dignified night will be dashed. You may also decapitate the champagne bottle with a sword. A spectacular maneuver first practiced by Napoleon's cavalry, we encourage you to mix alcohol and weaponry under the guidance of a professional.
Champagne must be poured with finesse and confidence. Hold the bottle with both hands in the middle, or with one hand on the indentation at the bottom and the other hand placed regally behind your back. Pour from just above the bottle for the best bubbles. Fill the glass until it's half full, then be quick to offer seconds and thirds.
Visit Champagne, France with YMT Vacations!
The Champagne Region is one of France's loveliest. The stunning vineyard covered hillsides, houses, and cellars are recognized by UNESCO for their beauty, history, and cultural contribution.
Beyond the elite world of champagne production, this area has great food, stunning scenery, historical villages and cathedrals, and links to the legendary Joan of Arc. It's a beautiful part of a beautiful country, made all the more pleasant by passing through on a tour with YMT Vacations.
Visit Champagne on our Rhone River Cruise & Flavors of Champagne, along with Paris, Arles, Avignon, and more. Call your travel consultant or YMT Vacations at 1-888-756-9072 to book today!