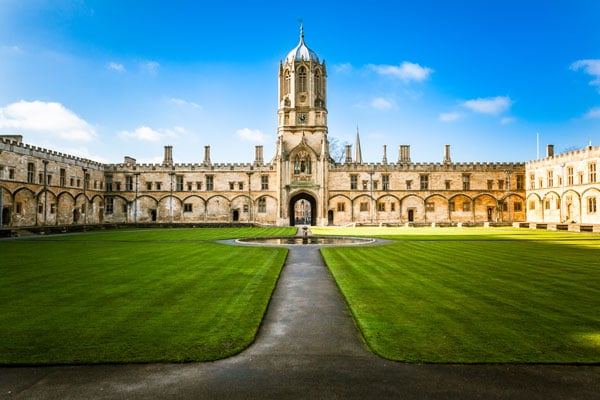 All movies are created to transport us into a different world for a few hours, but some films capture our imaginations so deeply we're moved to grab our passports just for the chance to experience the story for ourselves. Here are a few films with spectacular real-life locations that you can visit on your travels:
Harry Potter Series: Oxford, England—Hogwarts School of Witchcraft and Wizardry was shot in a variety of locations around Oxford—from Christ Church College where the cavernous Great Hall scenes were filmed, to Gloucester Cathedral and Lacock Abbey. Fans of the series will also appreciate the Jacobite Steam Train in Scotland that takes guests on an 84-mile loop near Ben Nevis aboard the "Hogwarts Express."
Roman Holiday: Rome, Italy—While Audrey Hepburn stole Gregory Peck's heart in this classic black-and-white romance, the glorious fountains and charming architecture of the Eternal City captured the audience's imagination.
Jaws: Martha's Vineyard, Massachusetts—How could anyone forget those stunning New England waters, coastal cottages and lighthouse views that functioned as the perfect hunting ground for the fear that lurked beneath.
Mary Queen of Scots: Scottish Highlands, Scotland—Head into the Highlands for a breathtaking look at the countryside, castles, and villages of 2018's historically-set blockbuster. You can even stay at Glenfeshie Estate, a cozy lodge where many of the movie's scenes were filmed.
Lord of the Rings: Matamata, New Zealand—With sparkling fjords and rumbling volcanoes, it's no wonder New Zealand is the stand-in for J.R.R. Tolkien's tumultuous yet beautiful Middle Earth. From thatched cottages to the idyllic green countryside and meadows of fluffy sheep, the Waikato region of the North Island is straight out of the world of hobbitses.
Avatar and Jurassic Park: Hawaii—The Aloha State has played host to many film,s including these blockbusters where the rain-forests, waterfalls and soaring cliffs provided the perfect backdrop for both prehistoric horror and futuristic drama. Be sure to look closely at Avatar; it's hard to tell which scenes and settings are real, and which ones are computer-generated.
The Sound of Music: Salzburg, Austria—The song says it all, the hills really are alive in this gorgeous region that was once home to the real-life Von Trapp family.
Mamma Mia!: Skiathos, Greece—My, my, how could we forget you? The sun, the shining waters, and the stunning Greek landscape made us sing our hearts out while dreaming of taking a long dip in the warm Aegean.
Monty Python and the Holy Grail: Doune Castle, Scotland—The ultimate must-see for lovers of surreal British comedy, this 1975 film remains a cult classic, and visiting the home of Camelot is a bucket list for any true fan.
Notting Hill: London, England—In this romantic comedy starring Hugh Grant and Julia Roberts, the charming neighborhood of Notting Hill plays a starring role—with appearances by Portobello Road Market and the unforgettable blue door at Westbourne Park Road.
Before Sunrise: Vienna, Austria—The first in a trilogy of beloved indie films, this beautifully slow movie is focused on two characters that meet strolling the cobblestone streets of Vienna.
The Talented Mr. Ripley: Italy—Taking place throughout Italy, this disturbing film set in the 1950s follows an ill-fated group of beautiful young people. You'll love the opulence of post-war Venice.
La La Land: Los Angeles, California—As we watch Sebastian and Mia fall in love on screen, we fall just as hard for the City of Angels—yes that includes its infamous traffic jams—thanks to the film's incredible cinematography.
The next time you feel the urge to book a trip to a film's location just as the credits begin to roll, contact us at YMT Vacations. With escorted vacations to destinations throughout the globe, we can make your travel dreams a reality. To begin making your plans, contact your travel professional or call YMT Vacations 1-888-756-9072.