---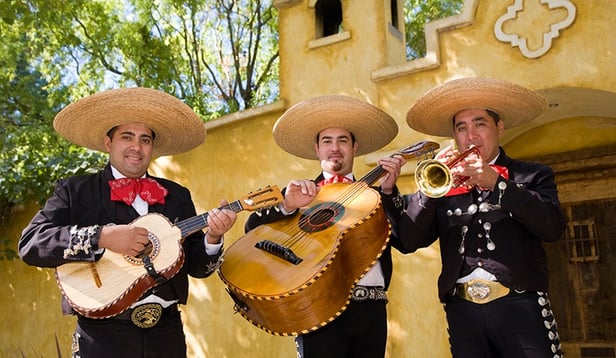 The booming sounds of mariachi music are uniquely and quintessentially Mexican. Played loud, fast, and with an abundance of powerful emotion, mariachi is an expression of the "joyful sorrow" that has long defined the spirit of Mexico. The legendary musical tradition is even part of the UNESCO Representative List of the Intangible Cultural Heritage of Humanity.
What is the Meaning of "Mariachi"?
You have to go back hundreds of years to discover the origins of mariachi music and even then, will not find a consensus for where the name comes from. For many years, experts claimed that mariachi was a variation of mariage, the French word for wedding. This was a nice theory that benefited the countless Mariachi bands that made most of their money playing weddings, as well as the Mexican tourism companies that touted the romantic claim on travel brochures, but as mariachi music existed before the French ever arrived in Mexico, that theory was debunked. The true origin of the word mariachi is still unknown, but modern scholars believe that its roots lie in an indigenous word for the tree used to make the signature mariachi instrument, the classical guitar.
What Makes Mariachi Mariachi?
Different versions of Mariachi—which at its core is a fusion of indigenous and Spanish musical styles—have existed for centuries. However, modern mariachi was born in the early 19th century in the western coastal state of Jalisco. At that time, mariachi was a version of Spanish theatre music containing violins, guitars, and even a harp. Today, the idea of an ensemble remains, but the instruments have evolved. Most modern-day groups typically feature a classical guitar, trumpets, and violins. A great example of the style is the extremely popular Cielito Lindo, translated as "Lovely Sweet One," which has become the unofficial anthem of Mexico. The song's bursting horn section and often misheard hook of "aaaay aaaay ay ay, canta y no llores" is familiar to millions, and many consider it the perfect mariachi song.
When is Mariachi Played?
Mariachi is a vital ingredient in significant events and celebrations. From serenades, where the music scores the rites of courtship, to the jarabe de Jalisco or jarabe tapatio, a dance technique commonly known as the "Mexican hat dance" that is now the National dance of Mexico.
Mariachi is a vital part of special moments in the lives of the Mexican people. Whether it's at a birthday or a baptism, a Catholic mass or even as an early morning Las Mananitas serenade, mariachi is a rich cultural legacy that adds depth and texture to the Mexican story.
How Can I See Mariachi Performed in Person?
You can hear authentic mariachi music while enjoying a Mexican cruise along with our legendary Rose Parade tours on YMT Vacations' 14-day Rose Parade & Mexican Riviera Cruise. Spend 5 days enjoying Rose Parade events in Los Angeles before traveling down to beautiful San Diego for a night of leisure and fun. Then board the award-winning ms Oosterdam for a relaxing cruise through coastal Mexico. Enjoy scenic stops in tourist-friendly Cabo San Lucas, Mazatlán, and finally Puerto Vallarta. Stroll narrow cobblestone streets, enjoy some local carne asada, and listen to the unforgettable sounds of mariachi in the heart of coastal Mexico. To make your plans to join this journey, call your travel professional or YMT Vacations at 1-888-756-9072.