---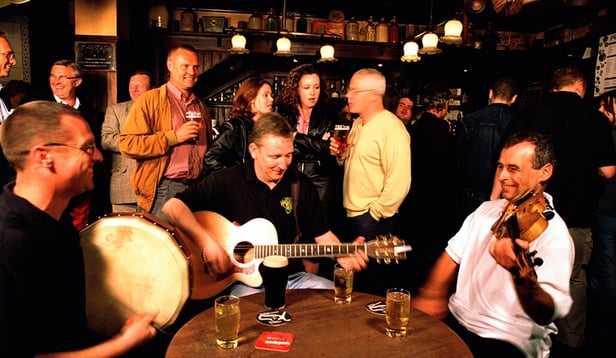 One of the best things you can do in County Galway is to spend an evening in a pub. Well to be competely truthful, that's one of the best things you can do anywhere in Ireland. One YMT Vacations Best of Ireland Tour we overnight in Galway on Day 7, so there's no excuse for not getting out and experiencing the Galway pub scene!

There's nothing like laughing with new friends over a few pints of Guinness or listening to the tall tales the always-talkative locals tell. It's the place where everyone meets, and the best way to get to know the real Ireland. From rock bands to folk music, traditional Irish dancing to storytelling aplenty, there's something for everyone. Add to that some terrific food and the authentic atmosphere of the historic streets of Galway and you can't go wrong. If you've never been before, here are a few tips to know about the Galway pub scene
Galway is known for its live music so check with your hotel to see which bands are playing where. It's also a good idea to plan on visiting two or three pubs throughout the evening to experience a wider variety of Galway sounds.


Smoking is prohibited in all of the area's pubs, clubs and restaurants.


The legal drinking age in Ireland is 18. That means you can expect to see a wider range of patrons in this vibrant college town.


Closing time on weeknights is 11:30, with an additional half hour to finish up your pint.


On weekends the pubs close at 12:30 with another half hour of drinking time.


Pubs designated "late bars" will serve until 2 a.m.


While larger pubs may accept credit or debit cards, they are not widely used so be prepared and bring cash.
You can explore the pubs of County Galway on YMT Vacations' Best of Ireland Tour. This 12-day itinerary treats you to all the highlights of the "Emerald Isle," from Blarney Castle and the Ring of Kerry to the Giant's Causeway and St. Patrick's Cathedral. To make your plans to join this exciting journey, call you travel consultant or YMT Vacations at 1-800-816-9752.
---