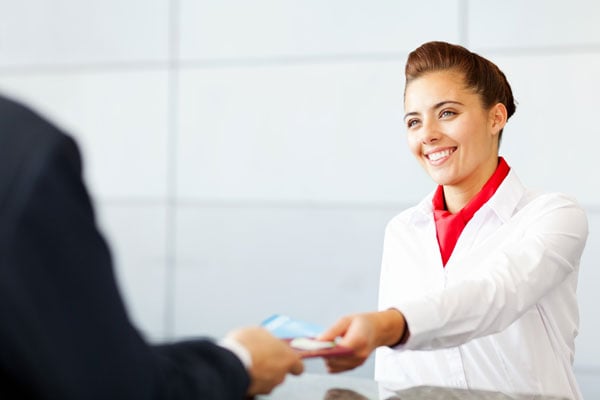 You may be wondering what the REAL ID Act is, and how it changes the ID requirements for boarding domestic flights. But why do we have this new law? When does it go into effect? What does it mean? How will it affect you?
We did the research for you, and have broken down what it means for travelers starting on May 3, 2023.
When Does the Real ID Act Go into Effect?
You can fly domestically using a standard state issued driver's license or ID. After May 3, 2023, acceptable identification will be either a REAL-ID compliant license or ID, or your passport.
What is the REAL ID Act?
The REAL ID Act was passed by Congress in 2005 as a post-9/11 law designed to prevent airline terrorism by increasing the requirements needed to obtain documents to fly domestically. It requires increased "card-based" documentation to access Federal facilities, nuclear power plants, and to board commercial aircraft. The card itself must be REAL ID compliant unless you are using an alternative acceptable document such as a passport.
The REAL ID Act is administered by the Department of Homeland Security, who consider it a "a joint State, Federal, and public effort to improve the security and trustworthiness of drivers' licenses and identification cards."
The law applies to every US state and territory resident, and requires REAL ID-compliant driver's licenses and ID cards to include the following information:
The person's full legal name.

The person's date of birth.

The person's gender.

The person's driver's license or identification card number.

A digital photograph of the person.

The person's address of principle residence.

The person's signature.

Physical security features designed to prevent tampering, counterfeiting, or duplication of the document for fraudulent purposes.

A common machine-readable technology, with defined minimum data elements.
Can I Fly Without A REAL ID?
In order to fly within the United States, standard driver's licenses and state ID cards will no longer be acceptable forms of identification. Travelers will now have to either show a REAL ID-compliant driver's license or ID, or travel with a valid passport or passport card. Many driver's license and ID cards are marked ad REAL-ID compliant by a star or symbol located in the upper portion.
To travel internationally, including to Canada or Mexico, you will need a valid passport or passport card. A REAL ID-compliant driver's license or ID is not a replacement for a passport when traveling outside of the United States.
How Do I Get a REAL ID-compliant Driver's License or State ID?
You must physically go to your local DMV with the appropriate documents to be issued a REAL ID-compliant driver's license or ID card—you cannot get it online or by mail.
States set the cost individually, and fees may range between $13-$85 based on whether you are requesting a renewal, duplicate, or brand-new license. Before you go in, you should find out what your state requires from you, but at the minimum, you will need:
A photo identity document, except that a non-photo identity document is acceptable if it includes both the person's full legal name and date of birth.

Documentation showing the person's date of birth.

Proof of the person's social security account number or verification that the person is not eligible for a social security account number.

Documentation showing the person's name and address of principal residence.
What Now?
Armed with the facts, we hope that you find the REAL ID Act, and the REAL ID flying rules that go into effect on May 3, 2023, to be straightforward and simple.
Take this time to start planning your travels and maybe even think about doing a getaway to Europe! Happy travels!
---
Update 4/27/2021:
The United States Department of Homeland Security on Tuesday announced that the DHS was extending the REAL ID full enforcement date by 19 months, from Oct. 1, 2021, until May 3, 2023, because of the impact of COVID-19 on the enforcement.
This article has been updated to reflect these changes.