---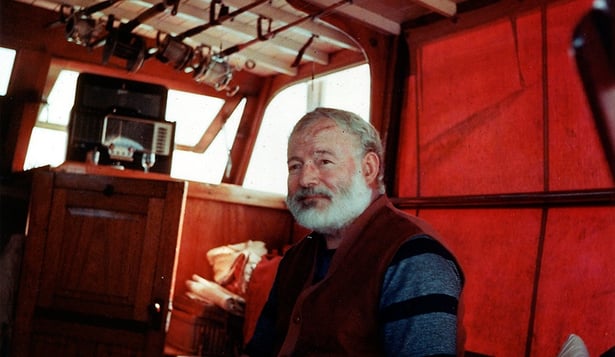 The letters, books, and records scattered throughout Finca Vigia are a snapshot in time, a picture of Lookout Farm as it was during the years Ernest Hemingway made his home here from 1939-1960. This was where he penned seven of his most famous novels, including The Old Man and the Sea and A Moveable Feast, and where he would pass his evenings listening to Gershwin tunes while sipping scotch.
---
In a life noted for being larger than most, Hemingway ran with the bulls in Pamplona, sipped absinthe in Paris with other literary ex-pats, and stalked lion across the grassy savannah of Kenya. But despite his globe-trotting early years, he was never more at home than in the small fishing village of Cojimar, Cuba where he sailed the rough seas in his beloved Wheeler fishing boat, Pilar, and wandered the neighborhood bars in search of another drink.
Today, Cuba is having its rebirth. More than half a century after the embargo that sent Hemingway back to the U.S., Americans are once again returning. For a while, they will find Cuba much the way it has been for decades, where 1950 studebakers cruise the Malecon and the crumbling old buildings still look an awful lot like a movie set. But if you're planning to come, you better come fast while Cuba remains caught in the time warp between those frenetic days when Papa walked the streets of Havana and Fidel Castro rose to power. If you have plans to visit, here are some of Hemingway's favorite places you won't want to miss:
Finca Vigia -- The villa remains much the way it was when Papa left it, more a home than a museum. The 12-acre estate was where he accepted the Nobel Prize and where he wrote many of his legendary works, and it contains much of his possessions and library.
La Floridita -- This 200-year-old bar was a noted stop-off for artists, writers, and starlets during Hemingway's stay on the island. Make sure to cop a squat on the author's stool and order a Papa Doble, a daiquiri with twice the rum, just like Hemingway liked it.
La Bodeguita del Medio -- Hemingway stares down at you from the dozens of photos above the bar. Famous for live music and mojitos, it is here where the author spent many an evening in the company of local Cojimar fishermen.
Ambos Mundo Hotel -- Hemingway stayed here in room 511 where he penned a good portion of For Whom the Bell Tolls. Today the room is preserved for posterity and contains one of his actual bar tabs.
---
You can now visit Cuba on a YMT Vacations' Cuba, Its People & Culture group tour. Explore Revolucion Plaza, visit the farm of Ernest Hemingway and attend cultural performances as you learn about modern-day Cuban life. To make your plans to join this exciting journey, call you travel consultant or YMT Vacations at 1-888-756-9072.
---