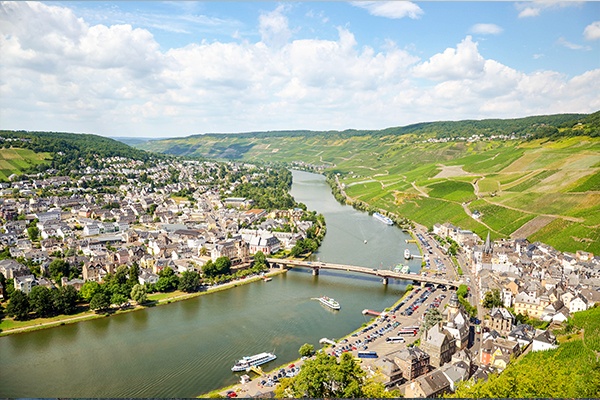 When it comes to European river cruising, there are many options to choose from, but they all have one thing in common: an unforgettable vantage point. From Germany to the Netherlands, Austria to France, these sailings let you get up close and personal and prove that the joy truly is in the journey.
Unlike big ocean liners, river cruises are smaller vessels that can travel places no large ship ever could—taking you to the very heart of Europe. You'll glide past castles and vineyards, alongside ancient abbeys and into the cobbled streets of medieval towns. Here are 4 of Europe's most beloved waterways for your next river cruise:
Danube—Napoleon called it the "Queen of Europe's Rivers," and it was the inspiration for Johann Strauss' famous waltz. The Danube River snakes its way through 10 countries and past 4 capitals, making it one of Europe's most vital arteries. You'll travel past the ruins of the castle where Richard the Lionhearted was once held captive, and through the stunning landscape of the Wachau Valley. Relive the days when Vienna ruled an empire, and slip behind the Iron Curtain which once divided a continent.
Rhone—From the vineyards of Burgundy to the food market of Lyon, a Rhone River journey takes you deep into the culinary heart of Europe. Sample delicate French chocolates and sip wine bottled at the source. Enjoy decadent French cuisine and hearty peasant fare. Born from the glaciers of the Swiss Alps, the river begins its journey in Lake Geneva before making its way toward the Mediterranean Sea. Along the way you'll sail alongside Avignon's Papal Palace and past the Pont du Gard Roman aqueduct.
Rhine—The Rhine River squeezes to its narrowest point between the peaks of soaring slate cliffs. It is here that legend claims the mythical Lorelei once lulled sailors to their death with her haunting songs. Flowing through 6 countries, the Rhine once linked southern and northern Europe from the Swiss Alps to the Netherlands. Cruise past fairy-tale castles and quaint villages. Enjoy the biergartens of Oktoberfest and wander through ancient monasteries on a Rhine River itinerary.
Moselle—One of the Rhine's longest tributaries, the Moselle River begins high in the mountains of France and ends where it joins the Rhine in Germany. Along the way it flows past the home of Joan of Arc and in between Germany and Luxembourg. No matter the season, the Moselle offers plenty of enchantment—from annual wine festivals to the vibrant foliage of fall, the oompah bands of Oktoberfest to the charming traditions of the Christmas markets.
YMT Vacations offers several European river cruise itineraries for you to consider. These combined river cruise and land tour vacations include cruise cabins, hotel accommodations, meals, sightseeing and a knowledgeable tour guide. To join one of our upcoming journeys, call your travel consultant, or YMT Vacations at 1-888-756-9072.