---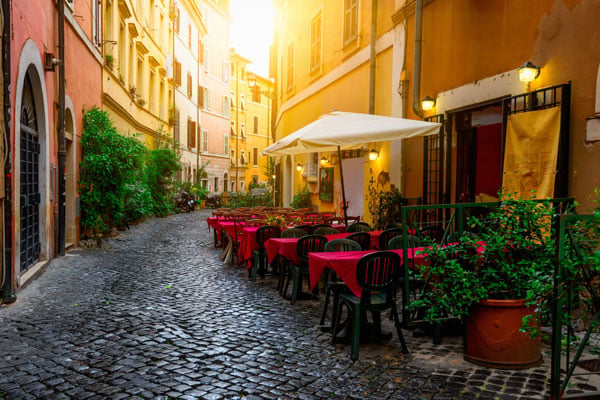 With cobblestone streets and bustling crowds, exploring Rome by foot can be a bit tricky. Not only is this a major metropolitan area, but it also has a number of heavily trafficked roads crisscrossing the city. When possible, see Rome on foot, especially if you are in the tourist areas where many sites of interest are clustered together. When exploring other parts of urban Rome, consider these helpful travel tips:
Time of day matters, and so does the time of year -- For the least congested times of day, arrange your adventures before and after rush hour. If possible, plan to visit the city in August when many Romans leave for vacation and you have the place to yourselves.
Subway travel -- If there is a Metro station close to your destination, it is always the best choice. However, with limited lines, you are not always guaranteed to find one close by. Always check with your hotel before departing to map out the best mode of transportation.
Bus and tram service -- Roman buses marked ATAC service more places of interest. However, in the city's crowded streets it can often be slow going. Save money by purchasing a tourist ticket that allows you to skip the lines and is good for travel on buses, trams, and the Metro. A few notes of caution...since buses are fairly packed, they are notorious for pickpockets and it's best to ask your concierge for the most up-to-date maps of the transportation system, as it changes frequently.
Taxi tips -- Unlike other urban cities, Rome isn't known for an abundance of taxis. Don't count on hailing a cab on the corner; instead ask the restaurant or hotel staff to call ahead for you. Try to avoid paying with large bills since drivers will likely claim to be out of correct change, hoping for a bigger tip. In truth, most Italians don't tip like American riders do, but usually "round up" to the nearest euro.
Avoid driving yourself -- While all roads lead to Rome, once you get there you have to drive in the congested city. If you have a rental car, it's best to park it with the hotel and use public transportation for the duration of your time in Rome.
Guided travel helps -- One of the best ways to explore Rome, without the hassle of arranging transportation, is to travel with a guided tour. Knowledgeable driver-guides, like those with tour company YMT Vacations, are not only experienced at navigating the city and finding the points of interest, they also have interesting historical and cultural tidbits to share with passengers as well.
---
One of the best ways to experience the Eternal City is on a guided tour with YMT Vacations. The Classic Italy Tour is an 11-day journey throughout this European country. Explore the majesty of Florence and the mystery of Venice. Enjoy a lake cruise on Lake Maggiore or marvel at Pisa's Leaning Tower. If you'd like more bang for you buck and have a little extra time, you can also combine this journey with the Greece & Her Islands tour for one fantastic Greece and Italy combo tour! This means you get to see the best of both itineraries, without having to pay for two separate round trip airfares. For information, or to make your plans to join this once-in-a-lifetime tour, call your travel consultant or YMT Vacations at 1-888-756-9072.
---