---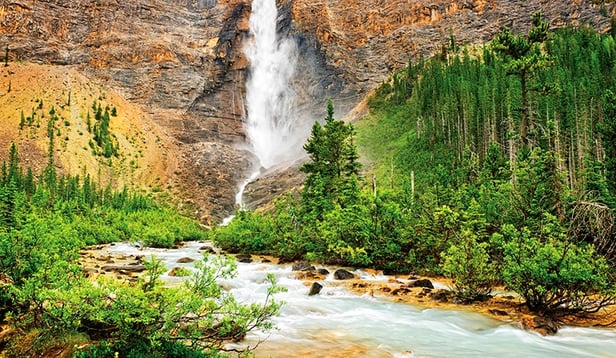 Just west of Edmonton, the Canadian National Parks of Banff, Jasper, and Yoho combine to form 300 miles of the Rocky Mountain Parks World Heritage Site. While you've no doubt heard of the first two, Yoho may just be one of the best-kept natural secrets of North America. With rugged peaks and alpine meadows, dramatic waterfalls and turquoise colored cold-water lakes, the smallest park of the trio is virtually unknown, and as such, features draw-dropping landscapes with very few crowds to contend with.
---
Named for the Cree expression of awe and reverence, Yoho features world-class hiking, raging rivers, and an abundance of wildlife. As the world prepares to celebrate the centennial of Canada's National Parks, we invite you to go a bit further afield and explore the top five things to do in Yoho National Park:
Emerald Lake -- The largest of 61 lakes that dot Yoho National Park, Emerald Lake is a shocking electric blue color. The perfect spot for canoeing or hiking the many trails that originate from the area, Emerald Lake also boasts a luxury lodge on a peninsula that juts out into the water -- ideal for relaxing and appreciating the panoramic views.
Takakkaw Falls -- As the second-highest waterfall in the country, Takakkaw is named after the Cree word for "magnificent." The falls, which plunge in a dramatic drop to the valley floor, are best seen and photographed in the late afternoon.
Burgess Shale Fossil Beds -- Yoho is a fossil lover's dream with some of the best examples of soft body preservation of prehistoric marine organisms in the world. Book a guided fossil tour or explore the half-billion-year-old rock beds on your own before stopping at the park information center to see the specimens on display.
Natural Bridge -- Yoho National Park protects the upper watershed of the Kicking Horse River and the force of this pulsing tributary as it pounds against the rock has given way to Natural Bridge. The icy-cold water, which is filled with rock flour, has carved the bridge, creating a dramatic waterfall underneath. You can see the bridge on an easy-to-access viewing area located on the way to Emerald Lake.
Field -- This quaint Alpine village is straight out of a Currier and Ives picture. Surrounded by mountains, this settlement in the heart of Yoho began as a railway town over a century ago. Home to 200 locals, it offers charming accommodations, tasty eateries, a historic cemetery and even a swimming hole for the summer months.
---
Yoho is just one of the Canadian National Parks you can visit on YMT Vacations' Canadian Rockies Tour. This active excursion is featured on a journey that takes you from Glacier National Park to the Icefields Parkway, across the Continental Divide to beautiful Whistler. To join us on the Canadian Rockies Tour, or for information about our other National Parks trips, call your travel consultant or YMT Vacations at 1-888-756-9072.
---