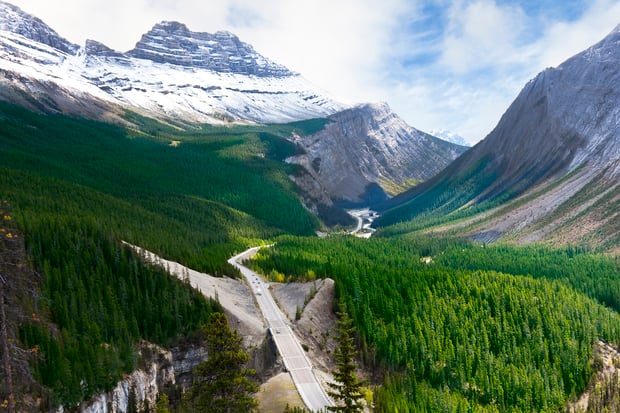 For more than 300 miles, the Rocky Mountain Parks World Heritage Sites span out across the Rocky Mountains between British Columbia and Alberta, creating one of the largest protected areas on the planet.
Throughout this vast wilderness, elk and caribou roam freely and grizzly bears wander through postcard-worthy Alpine meadows. There are soaring mountain peaks and spectacular waterfalls, otherworldly Icefields and pristine glacial lakes. These natural gems offer some of the world's most awe-inspiring scenery and provide every reason you need to see this place for yourself.
Visiting the Canadian Rockies
Your YMT Vacations' journey through the Rocky Mountains begins in the east in Banff, Canada's first National Park. There are snow-capped mountain vistas and lakes that glimmer a brilliant shade of jade thanks to the mineral-rich silt that washes down from the glaciers that envelop them.
Hiking trails skirt spectacular stretches of lakefront and canyons pass between 100-foot cliffs, there are wooden footbridges and waterfalls, which feed emerald pools known as Ink Pots.
Stretching from Lake Louise to Jasper you'll find one of the top-rated drives in all the world -- the Icefields Parkway. Winding along the Continental Divide, Highway 93 travels through dizzying mountaintops before descending into the valleys below.
Along the way, you'll spot big horn sheep and deer, black bears and coyotes. And, if you're lucky, you might catch a glimpse of a mother grizzly shepherding her newborn infant cubs. Pull off the road to capture the jaw-dropping scenery on film or park at one of the trailhead lots and venture off into the wilderness for a closer look.
When British explorers first caught a glimpse of the parkway's main attraction, the Columbia Icefield, it was from the east side of Mount Athabasca. Below them they looked down upon a carpet of ice that reached the outer limits of almost every horizon, causing J. Norman Collie to describe this virgin landscape.
"The view that lay before us in the evening light was one that does not often fall to the lot of modern mountaineers. A new world was spread at our feet: to the westward stretched a vast ice-field probably never before seen by the human eye, and surrounded by entirely unknown, unnamed and unclimbed peaks."
Beyond Icefields Parkway there are hiking paths and rafting trips in Jasper, Canada's largest Rocky Mountain National Park, as well as plenty of angling options in the glacier-fed lakes. Soak in a natural hot spring or just enjoy a stroll amidst the rugged scenery in this UNESCO World Heritage Site. Afterwards, take time to explore Yoho National Park whose very name comes from the Cree expression for awe.
There are trail hikes and fossil digs, horseback riding and canoeing on pristine Emerald Lake.
Explore all the wonders of Canada
You can explore all the wonder and majesty on YMT Vacations' on any of our Canada tours This 14-day escorted journey is an exciting blend of urban cities and rural towns, dramatic wilderness and Old World charm.
With hospitable Tour Directors and knowledgeable driver guides, you'll enjoy all the very best this unforgettable destination has to offer.