---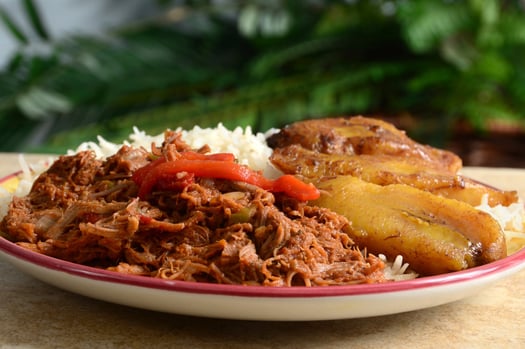 Ropa Vieja in Spanish literally means "old clothes." As the national dish of Cuba, it gets its name from the shredded strands of meat and vegetables that resemble colorful rags. No one knows exactly where the dish originates, but there is some chatter that claims the recipe was brought to Cuba from the Canary Islands. Hearty enough to eat alone, this beef stew is usually found heaped over mounds of rice or soaked up on top of crusty Cuban bread. If you are interested in Cuban cuisine or just love to try new things, you might love the Cuban food recipe below! The beef can be cooked and shredded the day before and refrigerated overnight to save time and amp up the flavors of the steak.

Prep Time: 20 minutes

Cook Time: 120 minutes

Serves: 4-6

Steak Ingredients:

2 lb flank steak or chuck roast, cut into strips

2 garlic cloves, smashed

1 large onion, quartered

1 large celery rib, chopped

1 T salt

water

Steak Preparation

• In a large skillet, place steak and add enough water to completely cover meat.

• Add onion, garlic, celery and salt.

• Bring to a boil, then reduce to medium heat and cook for 1 1/2 hours or until the steak is tender.

• Transfer the steak to a plate to cool and discard liquid.

• When the meat is cool, shred it with two forks.

• Steak can be refrigerated over night.

Stew Ingredients:

1 large onion, julienned

2 cloves garlic, minced

1/4 C olive oil

1 green pepper, julienned

1 1/2 lb tomatoes, diced

2 T dry sherry

2 bay leaves

1 T ground cumin

1/2 C peas, cooked

black pepper

salt

Stew Preparation

• In a large pot, heat oil over medium-high heat. Add minced garlic and sauté until soft.

• Reduce heat to medium. Add onion and bell pepper and cook until soft.

• Stir in tomatoes, sherry, bay leaves, cumin and salt to taste.

• Turn the heat back to medium-high and continue cooking for 25 minutes, stirring occasionally.

• Stir in the pre-cooked, shredded beef and cook for 10 minutes, or until the beef is heated through.

Interested in more? There's nothing like tasting a dish made in its country of origin. You can sample this authentic dish and many more on an exclusive escorted group tour to Cuba. YMT Vacations' Cuba, Its People & Culture tour gives you a glimpse into the history, culture, religion and politics of this once-forbidden travel destination. For questions and reservations, call 800-922-9000.
---