---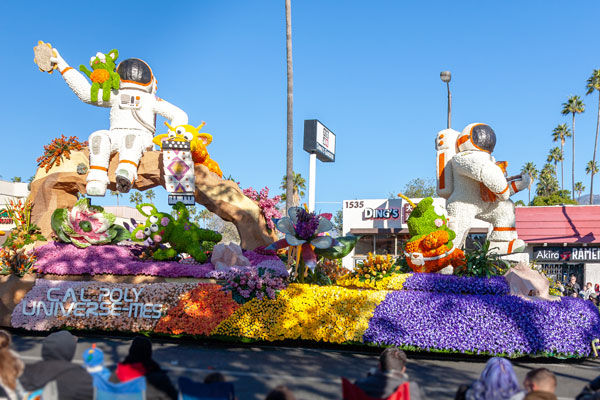 If you're one of the lucky million revelers to descend on Pasadena for the 131st annual Tournament of Roses Parade—which features a spectacular procession of flower-covered floats, spirited marching bands, and high-stepping equestrian units—you will certainly want to come prepared. Whether you plan to enjoy America's New Year Celebration in comfortable pre-purchased stadium seating, camp out for free curbside spots, view the floats up close at a pre- or post-parade event, or to simply watch all the fun from home, this helpful guide will help you plan and enjoy the parade fully.
Rose Parade History
The first Rose Parade was staged on January 1, 1890 by Pasadena's Valley Hunt Club. The club was mostly made up of wealthy Northeastern and Midwestern transplants who viewed the mid-winter parade as the perfect opportunity to flaunt their new home's magnificent year-round weather. Club member Professor Charles F. Holder explained their motivation at a meeting, "In New York, people are buried in the snow. Here our flowers are blooming and our oranges are about to bear. Let's hold a festival to tell the world about our paradise."
That year, members organized an event for a crowd of 2,000 which consisted of flower draped horse-drawn carriages, foot races, polo matches, and a competitive game of tug-of-war. The abundance of flowers on display prompted the professor to name the event the "Tournament of Roses," and the beloved tradition was born!
Rose Parade 2020 Event Details
2020's parade takes place on Wednesday, January 1st, 2020 from 8 a.m.-12 p.m. noon.
The parade takes 2 ½ hours to cover the 5 ½ mile long route down Colorado Boulevard, come rain or come shine.
The average temperature range is 50° F to 68° F. The mornings usually warm up around 10 a.m., but until then, layer up, enjoy a warm drink, and complain about the cold like a true Angeleno!
You should be seated by 7 a.m. if you're at the start of the parade west of Fair Oaks Ave. Otherwise be at your seat by 8 a.m.
Rose Parade Seating
Every person must have a ticket to sit in the reserved grandstand seats. The only exception is for children two years of age or younger who can stay on an adult's lap for several hours. Tickets for limited wheelchair-accessible seating at grandstand locations are also sold through Sharp Seating Company.
YMT's grandstand seating is located mid-route near Pasadena City College, on the southside of the street where the sun isn't in your eyes. This is conveniently located near our parking area, approximately one-quarter mile away.
Non-Ticketed Viewing Areas
Curbside viewing is also available on a first-come, first-served basis. Pasadena city ordinance allows the occupancy of curbside space along the parade route beginning at 12 noon the day before the parade. For tips and rules about curbside viewing, contact the Pasadena Convention and Visitors Bureau or call 877-793-9911.
Rose Parade Safety
A number of items are prohibited along the parade route including: weapons, sticks, poles, drones, glass bottles and any items which may cause injury or interfere with the parade or spectators' enjoyment of the parade. Umbrellas are not allowed in the grandstand, if it does rain, for that reason.
Each grandstand has adjacent sanitation facilities. Note that lines can be long right before and right after the parade.
Rose Parade Parking and Transportation
Plan to arrive two hours prior to the estimated time of arrival of the parade for your seating area. For example, if you are sitting at the beginning of the parade route you should park by 6 a.m. If you are sitting at mid-parade you should park by 7 a.m.
Reserved parking for automobiles, buses and recreational vehicles is available for purchase through Sharp Seating Company at 626-795-4171; City of Pasadena at 626-744-6440; LAZ Parking at 626-578-1705; Easy Parking Service at 626-286-7576; and AP Parking at 858-692-0868 or 949-295-6537.
Paid parking is also offered on a first-come, first-served basis at various lots and parking structures near the parade route. Overnight parking on Pasadena streets begins at 12 noon the day before the parade for that evening only. All "No Parking" areas and red curb zones remain off-limits, and vehicles in violation will be subject to impound and a fine. There is no parking allowed on the parade route itself, and illegally parked vehicles will be impounded.
Rose Parade Television Coverage
The Rose Parade starts at 8 a.m. PST, and can be watched live on ABC, NBC, Univision, Hallmark Channel, or RFD TV.
It is free to stream the Rose Parade on your computer or mobile device on KTLA 5. Watch live at 8 a.m., or repeats at 10 a.m., 12 noon, and 2 p.m.
The parade's American television audience is 50 million, with 30 million international viewers.
Pre-Parade Event: Float Viewing Decorating Places
Activity: View a selection of the nearly completed Rose Parade's ornate floats as they are given their final decorative touches in the massive flower-scented Rosemont Pavilion.
Location: Rosemont Pavilion: 700 Seco St., Pasadena.
Date and Time: December 28: 11 a.m.-7 p.m.; December 29: 9 a.m.-7 p.m.; December 30: 11 a.m.-5 p.m.; December 31: 11 a.m.-1 p.m. (advance purchase only).
Cost: $15 General Admission (free for children five and under).
Post Parade Event: A Showcase of Floats
Activity: Take an up-close look at the completed floats as they are displayed to the public after the parade.
Location: Sierra Madre Blvd. and Washington Blvd., Pasadena.
Date and Time: January 1: 1-5 p.m.; January 2: 9 a.m.-5 p.m. (Senior citizens and disabled visitors welcome 7-9 a.m.).
Cost: $20 General Admission (free for children five and under, ticket sales end at 3 p.m., last entry 4 p.m.).
Parking near the Post Parade float viewing is extremely limited. Free shuttle service will be available from two locations in Pasadena, departing approximately every five minutes. Guests using shuttles enter the event through a priority line. Ticket sales at Park-N-Ride locations end at 2:30 p.m. Advance tickets are also available through Sharp Seating Company at 626-795-4171.
Shuttle Locations: Pasadena City College: 1570 E. Colorado Blvd. (enter off Del Mar Blvd. or Bonnie near corner of Hill Ave.) Rose Bowl Stadium Lot B (January 2 only).
Shuttle Date and Time: January 1 (no Rose Bowl shuttles): 12:30-2:30 p.m. (final departure); January 2: 6:30 a.m.-2:30 p.m. (final departure).
Visit the Rose Parade in person in 2020
Enjoy 2020's Rose Parade with YMT Vacations! We have multiple itineraries departing December 29, 2019. All include the pre-parade float viewing event plus a dinner with an exclusive presentation by the Tournament of Rose Committee. Call your travel professional or YMT Vacations at 1-888-756-9072 to book!
---