---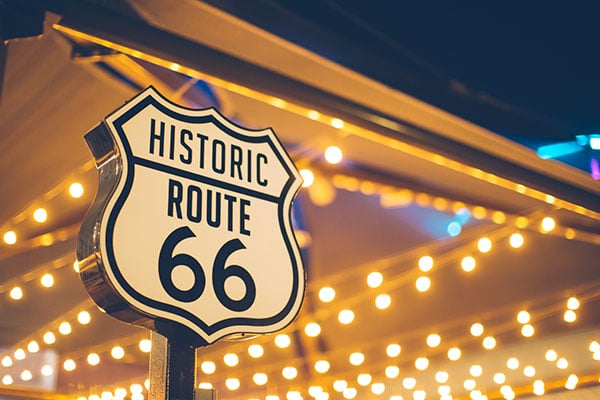 One of the greatest parts about traveling down Route 66 is the attractions you'll find along the way. Nicknamed "America's Main Street" and "The Mother Road," the 2,448-mile-long highway snakes its way through eight states, from the heart of Chicago to the Santa Monica Pier, passing by countless interesting places along the way. It would be impossible to name our favorite stop along the whole of Route 66, but we would love to share what we look forward to most in each state. Travel West with us along The Mother Road, as we share some of the best attractions along Historic Route 66!

Brooks Catsup Bottle Water Tower — Collinsville, IL
You'd be hard pressed to find a better example of vintage roadside Americana than the world's largest catsup bottle. The 170-foot-tall water tower has stood sentry over the blue-collar hamlet of Collinsville since 1949, when it was erected to hold the water supply for the nearby Brooks Food Plant. The water tower holds 100,000 gallons of water, but if it were used the way we feel it should be, it could carry 640,000 standard-sized bottles of Brooks' original sweet and tangy catsup.
Galena Historic District — Galena, KS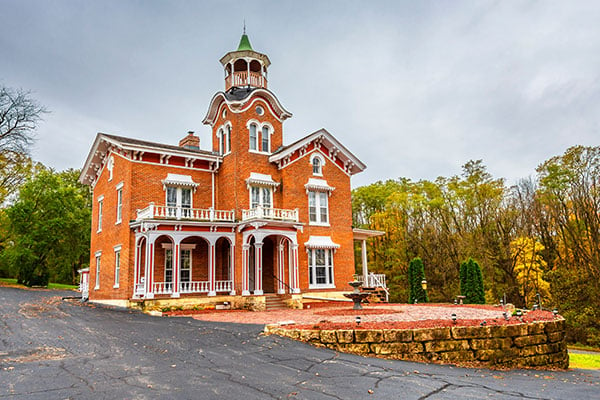 A veritable time capsule of the 19th century Midwest — it's even nicknamed "The Town that Time Forgot" — the Galena Historic District is home to 1,000 buildings built before the year 1900. It contains wonderful examples of Italianate, Gothic Revival, and Victorian architecture — and Galena's Greek Revival homes are considered some of the finest in the country.
National Route 66 and Transportation Museum — Elk City, OK
The National Route 66 and Transportation Museum is designed to give guests insight into the human experience of Route 66, focusing on the people who built and traveled the road, and residents of the towns it passed through, as well as the history of the creation of the road itself. Detailed murals and vignettes depict life across Route 66 over the decades the it was in use, and the stories are made even more vivid by audio recordings of the people who lived them.
Gateway Arch — St. Louis, MO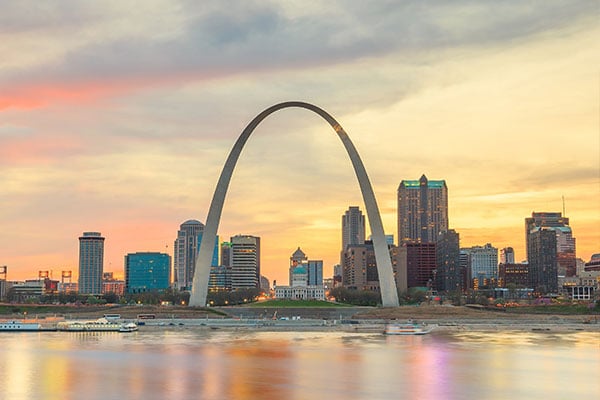 They symbolic gateway to The West, the Gateway Arch is St. Louis' most famous attraction. Visitors can travel to the top of the arch and enjoy panoramic views from 630-feet above the city. On clear days, you can see for 30 miles in each direction.
Cadillac Ranch — Amarillo, TX
When a group of avant garde artists was tasked with creating a "confusing" art piece by a Texas billionaire in 1974, they delivered in spectacular fashion. Cadillac Ranch consists of numerous half-buried Cadillacs… and that's it. Over the decades, this "tribute to the evolution of the Cadillac tail fin" has been battered by the harsh Texas sun, tagged with erratic graffiti, picked clean of remotely removable parts, and somehow made even more confusing, thus perfectly living up to its original intention. Guests are invited to try their hand at spray painting the Cadillacs when they visit, and we highly recommend this legal (don't worry, we checked), one-of-a-kind opportunity to contribute to a classic Route 66 roadside attraction.
Hotel El Rancho — Gallup, NM
Boldly decorated in a brashly Southwestern style, walking into the Hotel El Rancho might feel like stepping onto a western movie set. Which makes sense, because these were the luxury lodgings of virtually every actor when they traveled to location to shoot countless Golden Age Westerns. The sign in front of the historic hotel welcomes you with the promise of the "Charm of Yesterday," and visitors, especially lovers of The Old West, have been enjoying that promise for decades. Don't pass the chance to grab a drink at the49er lounge, which Esquire said has "great booze" in one of its annual run-downs of America's best bars.
"The Birthplace of Historic Route 66" — Seligman, AZ
Full of personality and a stubborn insistence on retaining its unique character in the face of a relentlessly modernizing world, Seligman is a Route 66 highlight and a perfect example of mid-century American quirkiness. You'll see vintage signs and wonderful old cars throughout the town. Main Street, Railroad Avenue, and Chino Street are all lined with older buildings like the 1903 Post Office, Pioneer Hall and Theater, Pitts General Merchandise Store, the 1905 Seligman Garage, and the 1923 Seligman Pool Hall. In addition, the fictional town of Radiator Springs in Pixar's Cars was loosely based on Seligman.
Elmer's Bottle Tree Ranch — Oro Grande, CA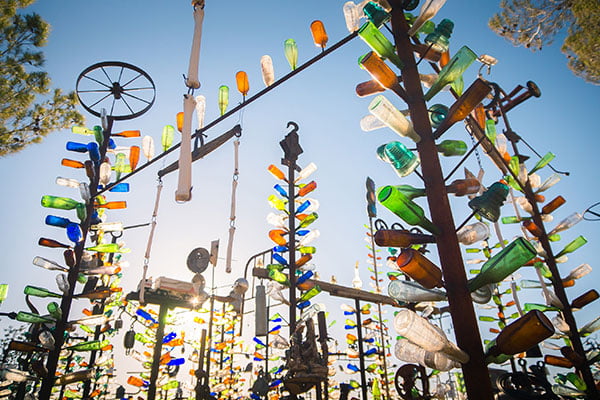 Elmer's Bottle Tree Ranch is a strangely beautiful desert pit stop that is one of the most quintessential Route 66 roadside attractions. A forest of hundreds of bottle trees (metal pipes have welded "branches" with colorful glass bottles at the ends) represents 20 years of one man's work. Elmer Long was a scrap artist who inherited thousands of vintage glass bottles from his father, and erected his bottle trees in front of his house from the year 2000 until he passed away in 2019. Visitors have always been welcomed to wander the site and enjoy Elmer's creation at their leisure.
Visit Route 66 With YMT Vacations
If you've always dreamt of getting your kicks on Route 66, YMT has the perfect bucket list tour for you. Historic Route 66 is the ultimate American Road Trip, snaking through all eight Route 66 states on a scenic path from the Chicago River to the Pacific Ocean. Celebrate the Mother Road's long life (it was used from 1926-1985) and lasting cultural impact. For information, or to make your plans to join this fabulous journey, call your travel consultant or YMT Vacations at 1-888-756-9072.