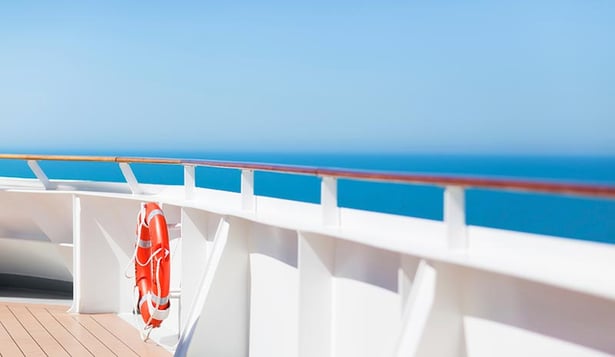 Every year more than 10 million Americans cruise the world's seas; and while cruise ships are generally safe, there are things first-timers and veteran sailers should know.
---
Listen Up -- The safety briefing at the start of the cruise is not only mandatory, it's also valuable. What you learn could be essential if you ever find yourself in a real emergency. Listen up and know the quickest path from your cabin to the grouping area.
Stay on Germ Patrol -- There's nothing worse than a "sick ship" when contagious illnesses spread like wildfire. Take care of your health by using antibacterial wipes, hand sanitizer and the restroom in your own cabin instead of public facilities. In the off-chance that your cruise does become an "ill-fated journey," make sure to avoid touching the handrails, seat backs, and other ship surfaces. Not only will this decrease your chances of getting sick, it will also save your clothes from bleach-treated surfaces.
Review the Report Card -- Ships are rated by the Centers for Disease Control and Prevention (CDC) on cleanliness, repairs, food prep, water quality, hygiene and pest control. Check out the vessel's report card on the CDC website before you book.
Safe Sailing -- The best way to avoid theft is to leave the valuables at home. However, if you're looking to protect your cash, passport, and essential jewelry then always make use of the ship's safe. While the in-room safe in your cabin is fine for everyday items and tip money, you should never rely on it for things you can't afford to use.
Water Warnings -- While shipboard water is generally safe, water in many ports of call is not. Make sure to drink bottled water from a sealed bottle on shore.
Be Aware -- Just like on land, you never want to let your guard down while at sea. Be aware of your surroundings, avoid poorly-lit areas and don't accept drinks from strangers. Trust your gut and report anything suspicious to the Purser's Office.
Find a Buddy -- If you're traveling solo, look for other travelers to pair up with. Don't walk around by yourself at night, never advertise that you are alone, and have a buddy system for meeting up at set times.
Lock Up -- While many people think to lock the cabin door, many forget to lock the balcony. This is especially important at port when contractors often clean windows and perform routine maintenance.
Avoid Large Amounts of Money -- There's no needs for large wads of cash since onboard transactions can be done with a room key that functions as a debit card. When on shore, take only what you need and keep your money in a traveler's belt.
Drink Wisely -- Not only is alcohol widely available on cruises, it's also commonly associate with sexual assault -- the most common crime on a cruise ship.
---
YMT Vacations lets you explore the world with land and sea group tours at low prices and unmatched value. Reliable, guaranteed and expertly run, our journeys let you travel the globe from Alaska to Europe. To learn more about our tours, unique travel experiences and how you can join us, call your travel professional or YMT 1-888-756-9072.
---