---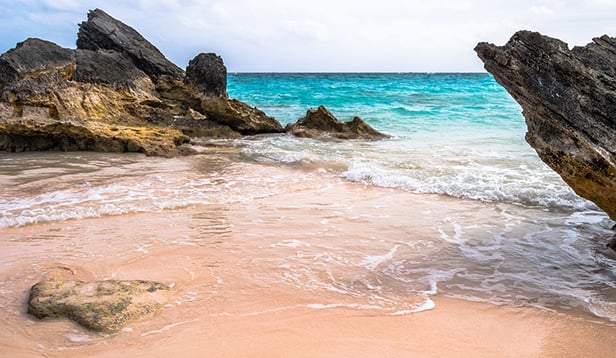 An island nation fewer than two hours by plane from Atlanta and Miami, Bermuda is an easily accessible paradise on earth. It is renowned for its crystal-clear water, delicious food, and friendly people—but it's famous for its striking pink sand beaches. A peculiar sight created by very particular conditions, the beaches with pink sand in Bermuda must be seen to believe they really do exist!
How Pink Sand Beaches Are Made
The pink sand on Bermuda's beaches is created by red-shelled Foraminifera, bits of coral, and crushed shell mixing with soft, white sand.
Why Bermuda Has Pink Sand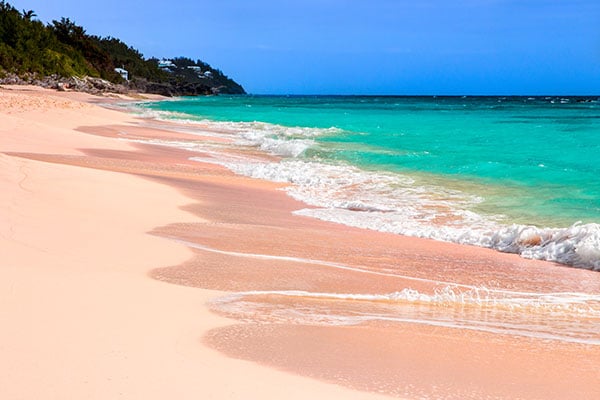 Off the shore of Bermuda, tiny single-celled red organisms (Foraminifera) grow beneath the coral reefs. When these organisms die, they fall to the ocean floor and mix with bits of coral and crushed shell. The sand turns pink when this mixture washes onto the beach.
Over time the pink sand pushes up the beach through the pounding of waves, and the sun bleaching the color. The most vivid shades of pink sand are near the water's edge.
But remember, it's against the law to remove the unique pink sand.
Beaches With Pink Sand in Bermuda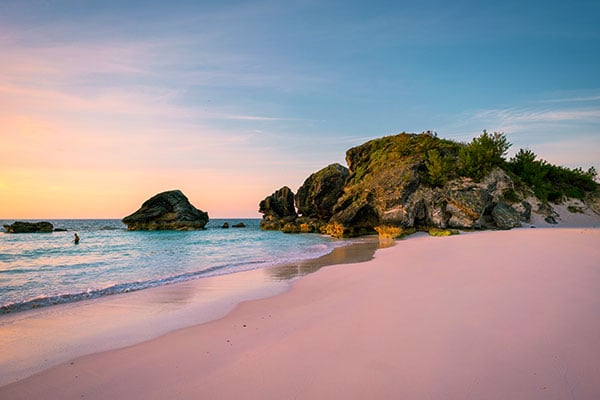 Wondering where are the pink beaches in Bermuda? Not all of Bermuda's beaches are pink. Of the 34 beaches that make up the 75 miles of the island's coast, only the ones on the south shore have the salmon-colored hue. Here is a list of the best pink sand beaches in Bermuda.
If you're keen to see pink sand during your trip, visit one of the best beaches in Bermuda with pink sand listed below.
Horseshoe Bay Beach
Horseshoe Bay in Bermuda is the island's most famous pink sand beach, with its gorgeous salmon-pink sand and teal waters. It is consistently heralded as one of the world's top beaches. Head to the west of the beach to find Port Royal Cove, a tranquil cove surrounded by rocks with shallow water that is ideal for swimming.
Chaplin Bay Beach
Located next to Horseshoe Bay Beach, Chaplin Bay Beach is sandwiched between two dramatic sea cliffs. During high tides, the beach disappears almost completely! This quiet, small beach is an ideal place to relax in relative privacy.
Stonehole Bay Beach
Stonehole Bay Beach boasts a stunning combination of water, sand and rocks. Like many of Bermuda's South Shore beaches, it is small, but absolutely gorgeous. Close to facilities but protected from crowds and prying eyes by rocky cliffs, this twin beach to Chaplin Bay is said to have especially pink sands.
Warwick Long Bay Beach
Bermuda's longest beach, Warwick Long Bay is a half-mile-long pink sand oasis. Known for turquoise blue waters, large expanses of sandy beach to take a leisurely stroll along and semi-submerged rock formations, it's a delight to explore. Wander the trail that snugs the cliffside to explore other nearby beaches and great snorkeling spots.
Map of Bermuda Beaches
This map showcases the most popular beach destinations in Bermuda. The pink area of the map is where you can find Bermuda's pink sand.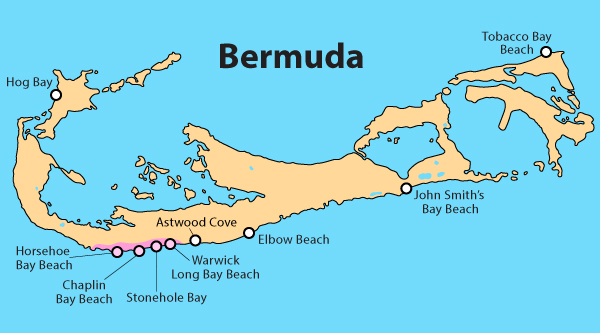 Other Bermuda Island Beaches
There are many different beaches to choose from in Bermuda, with or without the pink hue. Some beaches are ideal for sunbathing and catching up on your favorite novel while others attract a more active crowd. Consider what your perfect beach day looks like, and pick the beach that's just right for you!
Here are our picks for other top beaches in Bermuda:
For snorkeling, try Tobacco Bay Beach in St. George where coral and rock formations attract a variety of marine life.
John Smith's Bay Beach, a small beach favored by locals, is quite private and set back from the road. Plus, it has several interesting limestone formations!
Elbow Beach is named for the long gentle arc of the shore, resembling a bent elbow. It's known for calm waters, beautiful reefs, and a shipwreck that's just off the shore.
Found at the bottom of a fairly steep hiking path, getting to Astwood Cove is definitely worth the effort—especially for birdwatchers. It's surrounded by cliffs that attract a huge population of Bermuda Longails, who are fascinating to watch swoop en masse from above.
A hidden gem, Hog Bay is a secluded beach that is reached through Hog Bay Park. While it is only accessible during low tide, it offers a private retreat and a setting straight out of the movies.
Visit Bermuda with YMT Vacations!
Stroll along the pink beaches or wander amidst Bermuda's pastel-colored boutiques, watch a fiery red sunset slip beneath the horizon, or swim in a romantic grotto. These Bermuda experiences are just part of the YMT Vacations experience on select transatlantic cruise tours. For information or to make a reservation, call your travel consultant or YMT Vacations at 1-888-756-9072.