---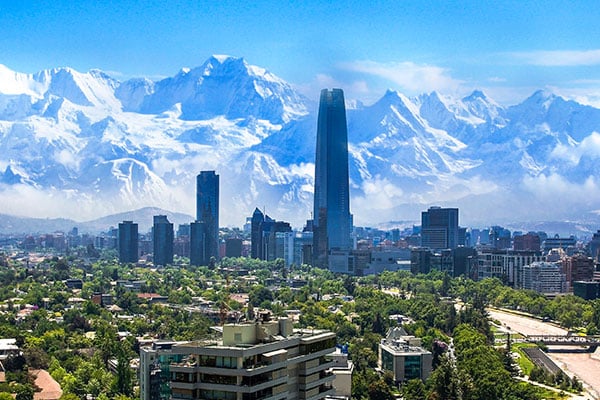 Ringed by the Andes Mountains and anchored by a dazzling historic downtown core, Santiago, Chile has more than earned its stellar reputation as one of the most appealing cities in South America. It is considered a mecca for artists, foodies, and history buffs, as well as for fans of Chile's unique culture—a disarming combination of European and indigenous influences. You'll never forget your time in the glorious City of the Island Hills!
Sample Santiago's Famous Street Food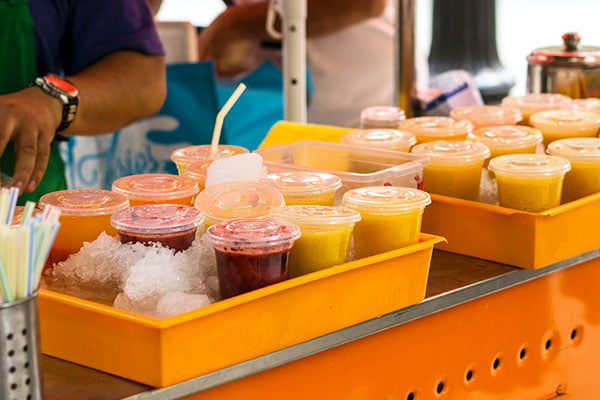 In a city with so much fine wine, fresh seafood, and glorious cuts of meat, visitors might be surprised at how delicious and varied Santiago's humble street food is. But the carts selling everything from completos, Chile's excellent take on the simple hot dog, to candied peanuts, empanadas, and mote con huesillos, a summertime drink made up of sweet syrup, dried peaches, and husked wheat, are some of the best restaurants in Santiago, Chile. If you want to experience Santiago like a local, start with a meal.
Visit the Charming Bellavista Neighborhood
Trendy, cute, and bustling with energy, Bellavista is one of Santiago's most welcoming neighborhoods. Full of independent shops, cafes, and art galleries, it's a great place to go for souvenirs and a peaceful stroll. Take a funicular ride to the top of St. Christopher Hill for some of the best views in the city, including of the iconic statue of the Virgin Mary.
Explore the Plaza de Armas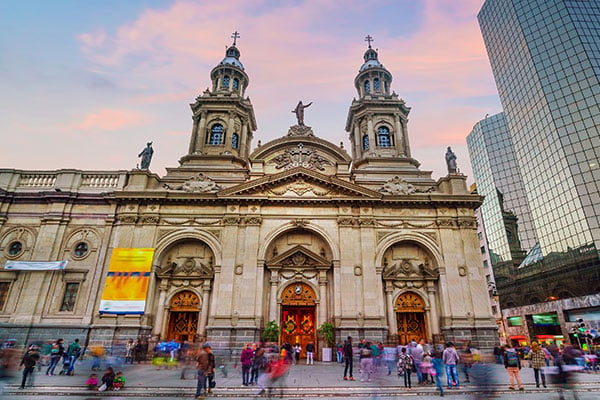 Considered the centerpiece of the Plaza de Armas, Cathedral Metropolitana de Santiago is a perfect showcase of what makes Santiago so special. Over 200 years old, the cathedral's highly decorated Baroque architecture stands out brilliantly against its more modern surroundings. With a background dominated by distant mountains and glass skyscrapers, Santiago's main square is home to many well-preserved colonial buildings, a striking contrast that visitors quickly grow to love.
Peruse Santiago's Numerous Museums
The cultural, political, and financial center of Chile attracts a sophisticated population whose hunger for museums is more than sated by a wide variety of excellent institutions. The National Museum of Fine Arts was established in 1880 in a stunning building that features Chilean and South American art, including sculpture, paintings, and elaborate tapestries. The Chilean Museum of Pre-Columbian Art is another incredible museum, dedicated to artifacts created by indigenous Americans up until the 15th century. It was built to preserve and display priceless pottery, textiles, and sculptures. Highlights include Aztec and Incan pieces, and the world's oldest mummies, 7,000-year-old Chinchorro mummies found in northern Chile's exceptionally dry Atacama desert.
When Should You Visit Santiago?
Santiago is located toward the bottom of the continent, so its seasons are the opposite of North America's. In addition, because of its proximity to Antarctica (just two short flights away), the weather can be quite chilly. So be sure to carefully consider the time of year you decide to venture down. It's warmest from December through February, with average daytime temperatures in the 80s, while June through August temperatures often dip below freezing.
Visit Santiago with YMT Vacations!
If Santiago seems like the kind of place you'd like to visit in person, you can join YMT for an incredible guided vacation around the tip of South America, on our dazzling Spectacular South America Cruise. Grab your passport, pack your bag, and call your travel professional or YMT Vacations to book a travel deal at 1-888-756-9072..
---