---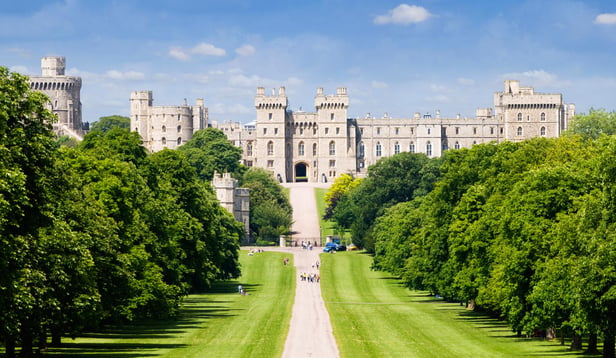 When Prince Harry weds the American-born actress Meghan Markle, it will be in the oldest and largest occupied palace in Europe. Nearly a millennium old, Windsor Castle is a country estate in England's grassy hill country nearly an hour's drive from London. While a favorite weekend retreat of Queen Elizabeth II, chock full of bucolic charm and English luxury, it is also ground zero for some of the country's most notorious historical moments.
---
Built by William the Conqueror in 1070 to guard against invasions that threatened London, the castle has always had a bit of a bloody past. During the civil war, when Parliament tried to overthrow King Charles I, Windsor Castle was captured and the king was imprisoned here for three years until he was finally beheaded. During World War II, the royal family used the palace as a shelter from the Luftwaffe bombings: protecting the young Princesses Elizabeth and Margaret from the bombs that rained upon London and keeping the famed Crown Jewels hidden from the Germans.
Meghan will walk down the aisle of St. George's Chapel on the grounds of Windsor Castle in the spring. Restored after a 1992 fire, the chapel is the final resting place of 10 British monarchs. With the world watching, the wedding party will process among the tombs of England's past rulers -- some beheaded and others disgraced, some poisoned and one who married six times and ordered two of his wives' deaths. It's no wonder the chapel is rumored to be haunted by ghosts -- not the least of which is Anne Boleyn, one of King Henry's beheaded wives.
If you'd like a peak at this royal treasure before the big day, you can tour Windsor Castle and St. George's Chapel on YMT Vacations' Best of England Tour as well as several other group travel experiences to the United Kingdom. You'll see the Great Kitchen responsible for serving elaborate state dinners and George VI's private apartments. Don't miss Queen Mary's impressive doll house and the changing of the guard that occurs when the queen is in residence.
---
For information, or to make your reservations to join us, call your travel agent or YMT Vacations at 1-888-756-9072.
---