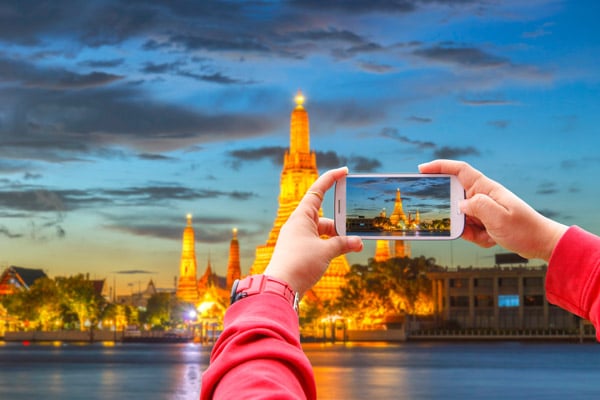 For many travelers, taking photos that document their journey is an important part of the travel experience. And for photography lovers, there is nothing quite like the quality images and satisfaction of using a DSLR-style camera. But lugging one around on vacation can be downright cumbersome. So...how do you capture amazing photos without a DSLR camera? A Smartphone.

That's right. With today's advanced technology, smartphone cameras take brilliant images. Plus, a Smartphone is small, light and easy to carry. You don't need the hassle of carrying a heavy camera and equipment, which can take up precious space in your travel bags.
Smartphone Travel Photography Tips
With a Smartphone, you have the all-in-one convenience of your phone, camera, maps, and photo editor. There is no reason you can't take fantastic pictures with a few simple travel photography tips and tricks. Follow the tips outlined below and you'll be impressed with how stunning your photos turn out.
Photographer's Rule of Thirds
A fundamental rule of photography is what is known as the Rule of Thirds. Essentially, this is where you break down your image into thirds to help perfectly frame your subject. The Rule of Thirds applies breaking down each image both horizontally and vertically.
To do so, you will need to turn on your smartphone camera's gridlines. How to do this may vary slightly depending on the type of phone you own. However, for many smartphones, you can turn gridlines on by going into "settings", then "camera". Once in camera settings, turn "grid" on.
Once you have turned on the grid lines and are ready to shoot, line up your subject at the intersections of the lines. Specifically, aim for the points of interest within your photo to fall into either the bottom row or both the middle and bottom rows. You'll end up with a more professional, visually captivating photo!
Lighting
Ask any photographer and they will tell you lighting is the key to a good photo. Be sure to take advantage of natural light to enhance your images. Try to shoot subjects where the sun is behind you. The best times of day to photograph are what is known as the golden hour which is roughly an hour after sunrise and an hour before sunset. This is a fantastic time to capture a picture of landmarks like the Eiffel Tower.
When using a smartphone camera, as a general rule of thumb, keep the flash off for more natural, crisp, creative, and professional-looking photos. A few instances where it may be helpful to use the flash include:
If you're indoors photographing an object that isn't too large and the lighting is poor.
Light is shining behind an object or person you're photographing.
Taking a selfie in a darker environment.
Focus
In the past, you never knew if your point and shoot-camera pictures would come back blurry or clear. But now you can see instantly whether they are blurry or not. You should be able to simply tap your subject on your smartphone's camera to focus in on it. Don't forget to keep both your front and back lenses wiped clear of any dust or fingerprints.
Don't Zoom, Then Crop
New smartphone cameras usually tout the amount of zoom they are capable of. But these use what is called digital zoom which doesn't always offer the clearest images. Instead of using the zoom, if possible, move closer to your subject. If this isn't feasible, then take the image and plan to use a photo editor to crop your image later.

Editing Your Photos
You have probably seen stunning travel photographs and thought to yourself, "how did they capture such a beautiful image?" The travel photography tip is that they used photo editing to enhance the picture to the image you see and love. You can use editing apps and programs to accomplish the same thing.
To keep it simple, you can use your phone's in-camera editing features. There will be an Edit button on the top of your camera screen (depending on the phone you have, it may be in the center or in a corner). When you click this button, a few icons will appear under your image. With these icons, you will be able to edit exposure, white balance, and some other features.
When you start editing your photos, remember that less is often more. Simple touch-ups and cropping can make a world of difference. In fact, apps will have an "auto" feature that edits the picture for you. But you can also have some fun and enjoy playing around with the different filters and features.
Apps for Photo Editing
With a vast array of great photography editing apps out there, it may be difficult to determine which app to choose. One of the best and easiest to use is Lightroom Mobile. It and others allow you to enhance the light and colors of your picture, crop them, and add filters and effects.
Other photo editing apps to experiment with include Snapseed, Canva, Magic Hour, and VSCO. Download the free versions and see which one you prefer.
Take Stunning Smartphone Photos on Your Next Trip
Before your next trip, start practicing Smartphone photography a little bit each day. When you follow the tips we've outlined, you'll soon become a pro at taking gorgeous photos using your Smartphone. And you'll love sharing your amazing vacation photos with everyone when you get back home.
To learn more about YMT Vacations' guided tours to National Parks, European destinations, exotic Asian locales, and more, call your travel consultant or YMT Vacations at 1-888-756-9072.