---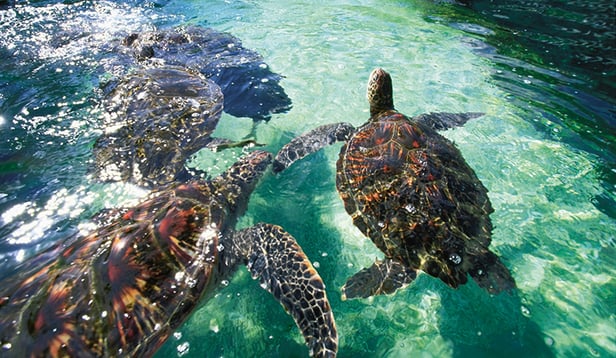 One of the best things about YMT Vacations' Ultimate Hawaii Tour with the Pearl Harbor Experience is that it offers that perfect mix of organized group tours and relaxing leisure time. During your down time, there's nothing better than hitting the beaches and diving into the crystal-clear waters. Snorkeling is an easy and enjoyable escape that lets you explore the beauty that lies beneath the surface of Hawaii's waters. Whether it's your first time or if you just need a refresher, there are a few things you'll need to know before you dive in. With some basic skills, good equipment and ocean knowledge, you can avoid the common mistakes and ensure a great time exploring the sea.

---
Rent Good Equipment

-- A reputable dive shop will help you find a mask that fits properly and doesn't fog. You'll also want a dry snorkel or one with a splash guard that prevents a flood of water from coming down the snorkel. Not chocking on a rush of water is worth every penny you may pay in additional rental costs. Also, make sure that you use fins to save energy and propel you further. You'll want fins that are not so tight they leave you with blisters or too loose that you risk one falling off mid swim.

Practice First

-- Allow yourself time to grow accustomed to your gear by practicing in a pool or a calm, shallow beach before you hit the surf. Does your mask leak? Can you purge the snorkel of water easily? Do you need a flotation devise in addition to your fins? These are the things you need to know before you dive in.

Take It Easy

-- Swim slowly and relaxed. Exhaustion is a common problem for first timers so it's important to stay calm. Swim at a speed where you can breathe slowly and easily through the snorkel; avoiding the heavy breathing that can cause anxiety and zap you of energy.

Location Location Location

-- Use some care in selecting your swim area. For the first time, dive from a beach and not a boat to let you build your confidence in the water. You should also look for an interesting spot with lots to see and a calm, sheltered waterway with minimal waves that will help you avoid seasickness and fatigue.

Be Kind to the Sea

-- Remember never to touch corals, fish or turtles or use harmful sunscreens that can cause reef damage. Instead, opt for a biodegradable, reef-safe sunscreen that does not harm sea life.

Sip and Slather

-- Make sure to drink up and carry water with you for after your dive to avoid dehydration. You'll also want to remember to wear sunscreen (biodegradable, of course) and reapply frequently to avoid burning in the Hawaiian sun.
---
One of the best ways to experience the Hawaiian Islands is with YMT Vacations' Ultimate Hawaii Tour with Pearl Harbor Experience. This 13-day itinerary takes you to all four main islands: Oahu, Kauai, Maui and the Big Island. With the guidance and expertise of a local Polynesian Tour Director, you'll witness the magical Fern Grotto and Volcanoes National Park, stroll the world-famous Waikiki Beach and visit the moving USS Arizona Memorial and Visitor Center at Pearl Harbor. To make your plans to join this trip, call your travel consultant or YMT Vacations at 1-888-756-9072.
---