---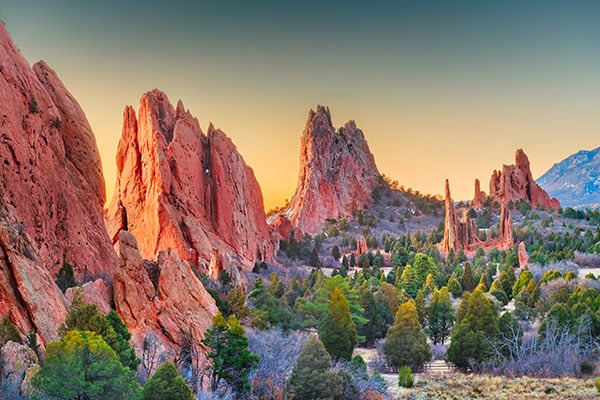 The Southern Rockies of Colorado is one of the most scenic regions of America. Beautiful, colorful, and full of surprises, this area of Colorado is the perfect place to go to get away from it all.
Blessed with abundant sunshine and a highly varied landscape, the Southern Rockies beckon visitors outside. There are abundant activities to enjoy, but where are the best places? Where can you have the most fun? Well, we have a few pretty good answers.
Read on to learn more about the must-see sites near Colorado's Southern Rockies!
Take in the View at Garden of the Gods in Colorado Springs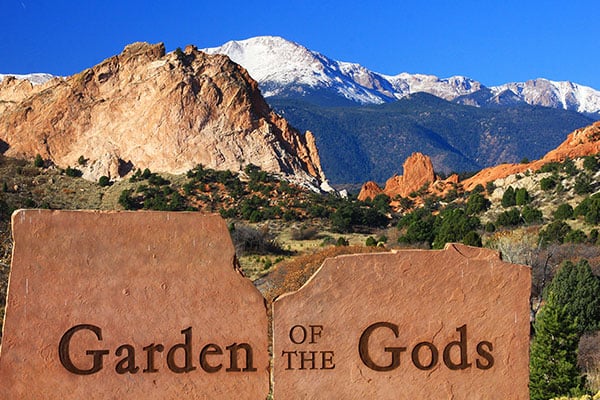 The Garden of the Gods feels like the type of place where Zeus would feel right at home. One of Colorado's most famous sites, Garden of the Gods is a stunning 1,300-acre park with towering crimson sandstone formations. These jagged rocks shoot up hundreds of feet in the air, the spectacular result of hundreds of millions of years of geological activity.
The view of the rock formations of this registered National Natural Landmark are breathtaking. With Pikes Peak rising in the background, the vistas you will see at Garden of the Gods are among Colorado's most beautiful.
Garden of the Gods is free to visit daily from 5:00 a.m. – 9:00 p.m.
Explore a Sea of Sand at Great Sand Dunes National Park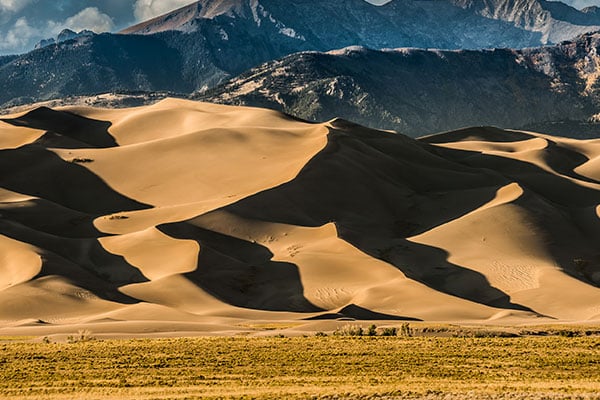 Any National Park with "great" in its name has to be pretty impressive—and Great Sand Dunes National Park is no exception.
Covering 30 miles in southern Colorado, the park is home to the tallest sand dunes in North America. Shaped and moved by the desert winds, these dunes are always changing. Some can rise over 750 feet in the air!
Behind the dunes of America's largest sandbox, look out for the stunning Sangre de Cristo Mountains.
Admission to Great Sand Dunes National Park costs $25 per non-commercial vehicle.
The park is open 24 hours a day, 7 days a week, year-round. The visitor center hours vary by season.
Travel Back in Time at Mesa Verde National Park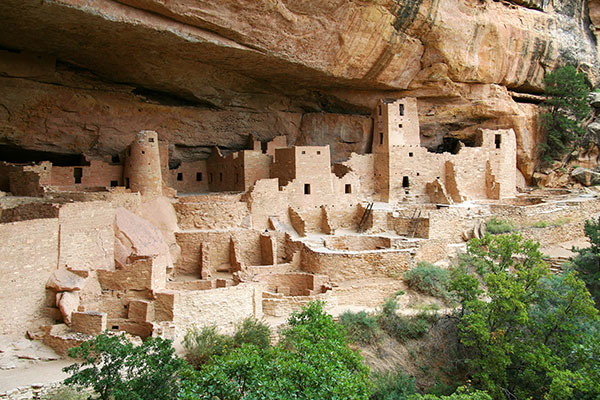 The ancestral home of the Pueblo people, Mesa Verde National Park is a one-of-a-kind anthropological and geological wonder. There are over 4,000 archaeological sites at Mesa Verde. They are a mixture of mesa top sites and settlements built right into the side of the rock. One of the most impressive structures is the exceptionally preserved 13th century Balcony House. It is estimated that the 38-room settlement housed 30 people.
Mesa Verde dates back all the way back to 550 AD. You will be amazed at what its ancient American occupants were able to accomplish using nothing but primitive tools and advanced survival skills. One of the best-preserved ancient sites in North America, Mesa Verde is a true national treasure.
Admission to Mesa Verde National Park costs $20 or $30 per non-commercial vehicle, depending on the season.
The park is open 24 hours a day, 7 days a week, year-round. The Mesa Verde Visitor and Research Center hours vary by season.
Ride a Historic Train from Durango to Silverton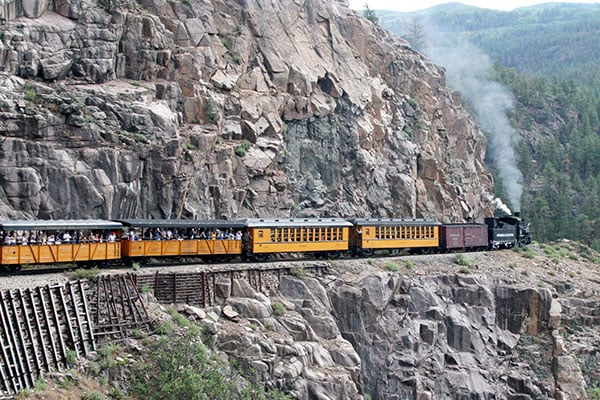 All aboard Colorado's scenic, historic Durango & Silverton Narrow Gauge Railroad!
Known by locals as D&SNG, the railroad is both a federally designated National Historic Landmark and a Historic Civil Engineering Landmark. The heritage D&SNG has been in operation since 1881, when it was built to carry valuable silver and gold ore mined from the nearby San Juan Mountains.
Today, D&SNG operates as one of the Four Corners region's most popular tourist attractions. Visitors are welcome to enjoy a beautiful ride 45.2 miles from Durango to Silverton on a steam locomotive dating back to either the 1880s or the 1920s. Travel along the Animas River, through thick forests, sheer canyons, and pristine meadows. These views, accompanied by the unforgettable soundtrack of an historic steam engine, have been delighting riders for nearly a century and a half!
Be sure to visit the railroad museum in Durango to learn even more! The Durango Silverton Train runs almost year-round.
Ticket price varies according to season, date, time, and car class.
Visit Colorado with YMT Vacations
Does visiting these picturesque places sound like your kind of vacation? If so, you can pack your bags and join YMT Vacations on our unforgettable Colorado & New Mexico Frontiers.
Nonstop fun and an itinerary that leaps from highlight to highlight come at an affordable price on this incredible journey through the vibrant Southwest—and it's only available through YMT.
To make your plans to join one of our once-in-a-lifetime trips, call your travel consultant or YMT Vacations at 1-888-756-9072.