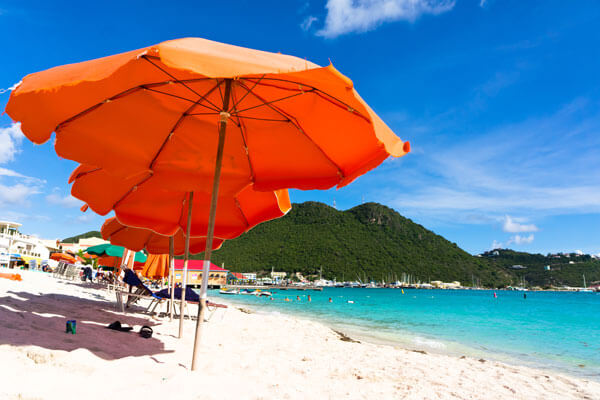 On 37 square miles of scenic land in the eastern Caribbean, you'll find two nations at home on a single island. The island of Saint Martin is home to both Saint-Martin and Sint Maarten, two countries that sit side by side, separated only by friendly welcome signs and their allegiances during the World Cup. While visitors can travel back and forth across the island almost without realizing it, there are some significant cultural distinctions between its two parts that travelers should be aware of when comparing St.-Martin vs St. Maarten.
The Dutch side, St. Maarten or Sint Maarten, pulses with energy. This southern half of the island houses bustling casinos, sprawling luxury resorts, abundant affordable dining options, and a raucous nightlife scene. It's known for being extremely tourist friendly and has all of the amenities that travelers looking for a good time could hope for.
Meanwhile, the French nation of St.-Martin or Saint-Martin, located on the island's northern half, is a bit more laid back. Here, visitors can enjoy upscale shopping, exceptionally sophisticated European-influenced cuisine, and the infectiously easygoing attitude of a small fishing village. Both sides benefit from their fusion of European and Caribbean customs, and no matter where you go on the island of St. Martin, you won't be far from the delicious flavors of traditional lolos.
The sun-drenched island of Saint Martin is ringed by aquamarine waters that lap at some of the world's most picturesque beaches—ideal for soaking your feet after long walks or taking in one of the Caribbean's legendary sunsets. So which side is better? Well, if a visit to this tropical paradise is in your future, take a look at these St. Maarten and St.-Martin travel tips and discover which part of the larger island of Saint Martin is a good fit for your travel plans:
If you're nervous about the tipping customs on the island, don't be. Tipping here is very similar to tipping in the United States, in terms of when to tip and for how much—but you'd be wise to check your bills carefully, because many businesses tack a modest gratuity on automatically. And remember that it's customary to leave your tax in cash. You will often be unable to tip using your credit card.
Hotels often include an occupancy tax, but an additional small gratuity is appreciated by the staff. Many restaurants levy an additional 15 percent on your bill as an automatic gratuity; if you see this, don't feel the need to tip extra unless the service was outstanding. Taxi drivers typically receive about $1 per person per ride, and airport porters expect $1 per bag for their service.
Currency
Visitors to the island can use major credit cards at most establishments, but cash is still king, especially when it comes to tipping, food carts, and smaller vendors, and there are some factors to be aware of before you go. St. Maarten uses the Dutch Netherlands guilder (NLG), while St.-Martin relies on the Euro (EUR). But you don't have to concern yourself with exchanging money, because American dollars are accepted nearly everywhere.
Language
Language is one of the biggest official differences in St.-Martin vs. St. Maarten—did you know the island recognizes three official languages? The northern St.-Martin's language is French, while St. Maarten officially recognizes Dutch and English. The good news for visitors to either side is that virtually everyone you meet can communicate fluently in English. Locals speak a dialect of English Creole that incorporates French, Spanish, and Caribbean influences, and is spoken with a distinctive West Indian accent.
Shopping
Shopping in St. Martin is one of the most popular activities for visitors from the mainland—just be sure to bring extra luggage to carry your loot home! You'll definitely want to take advantage of the duty-free shopping throughout the island, but especially in Marigot, St.-Martin or Philipsburg, St. Maarten. Peruse locally owned shops, often in beautifully converted old houses, for incredibly affordable, impeccably crafted leather goods and fine jewelry, not to mention heavily discounted designer goods. Guests looking for a livelier shopping experience should head out of the air conditioning and toward the beach or other open-air markets. You will find many vendors very willing to haggle for a better price for their brightly colored souvenirs and trinkets.
What to Wear
Visitors will find a laid-back atmosphere where flip flops, Hawaiian shirts, and breezy sundresses are the de facto daytime uniform. Pack casual daytime wear that's designed to feel light and comfortable—cotton and linen, fabrics that breathe well, will feel the best. For evening, be sure to come prepared with more formal attire such as slacks and short-sleeved button-up shirts, or blouses and maxi skirts and dresses. Bright colors are perfect for any time of the day.
Dining
Dining on St. Martin is a delightful experience that brings many visitors back again and again. Many believe that the island offers the best dining in the Caribbean. Our advice? Come hungry.
Because tourism accounts for 80% of St. Martin's economy, there are abundant dining options for visitors, no matter their price range. There is a great variety of patisseries and upscale restaurants, especially in St.-Martin. The French side of the island is generally considered the more subdued half, and is the perfect place for an elegant, intimate meal. The small town of Grand Case is home to the island's highest concentration of world class dining—it feels like Paris in paradise, and should not be missed.
Meanwhile, St. Maarten is a fabulous option for visitors looking for a livelier experience, and may be a better choice for travelers attracted to the island for its promise of beachside fun than European-influenced sophistication. Philipsburg is a hot spot for delicious food served in a festive atmosphere. The food here is more Caribbean than European, and is known for abundant and deliciously flavorful Creole accents. Expect beautifully spiced seafood, chicken and fresh vegetables. You will never have to travel far to enjoy live music while you peruse Sint Maarten's eclectic menu options. Reggae and calypso are very common, and go perfectly with fresh food and drinks made with delicious wild guavaberry, a deliciously sweet rum-based liqueur made from ripe local berries that both sides of the island are proud to take ownership of as their official drink.
Guests looking for a no-frills meal that's heavy on tradition and absolutely bursting with flavor will really enjoy grabbing a bite at a lolo.
Lolos
Lolos are one of St. Martin's most beloved cultural institutions. While most of the island's dining options lean more upscale, lolos are as unfussy as they are affordable and delicious. Often found right on the beach, lolos are open-air barbecue stands that serve fire-grilled meats, fresh seafood, and various other Caribbean specialties like chicken stew, rice and beans, Johnny cakes, and fried plantains. Lolos serve authentic island food using traditional techniques and local ingredients… and generally don't subscribe to the "no shoes" rule those of us on the mainland have come to accept.
Phone Calls
A call from one side of the island to the other is considered an International phone call. If you are making reservations for a restaurant, calling for a cab, or booking a tour on the other side of the island, you'll want to call the number local to your location, or email the business.
Your Island Paradise Awaits
Take a trip to St. Maarten on one of YMT Vacations' Transatlantic cruises. You can visit Saint Martin's Dutch side and cruise to Caribbean destinations like Barbados and Antigua on our Venice, Croatia & Cuba Cruise and Tour, where you will enjoy a trip full of lolos, ancient stone walls, and Venetian canals.
To make your plans to join one of our fully-escorted vacations, including several options for Caribbean cruise vacations, call your travel consultant or YMT Vacations at 1-888-756-9072.