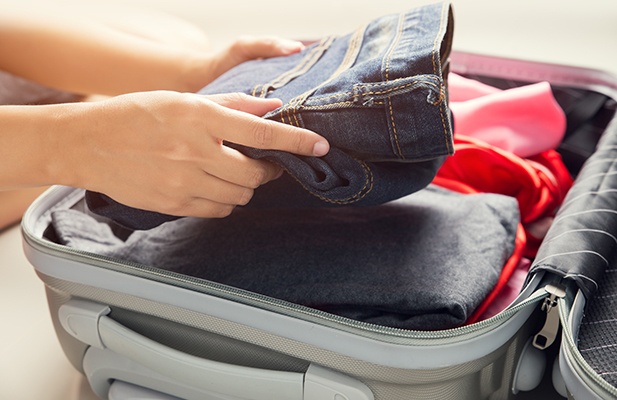 A summer packing list helps ensure a smooth, hassle-free vacation, whether you're planning a road trip to visit the grandkids or flying off to explore foreign lands. Stay organized while you travel with this handy summer packing list.
Clothing
It's best to travel light, and in many destinations, you can supplement your travel wardrobe with a little shopping. Depending on where you're going, you'll need:
a belt
comfortable walking shoes
dresses or skirts
glasses, sunglasses, and contact lenses
jewelry / watches
lightweight clothing
long-sleeved shirts
pants and / or shorts
rain jacket or windbreaker
sleepwear
socks
sweaters or a fleece jacket
swimwear
underwear
If you're embarking on a cruise or setting out on a bus tour, you may also want to pack some of your best clothing to wear at dinner. If you're travelling abroad, do a little research into the local culture to see what clothing is appropriate.
Medication
If you take medication, be sure to pack enough for the entire trip. Pack medication into your carry-on bag in its original packaging so airport security won't feel they need to inquire about the nature of your meds. Having the original packages also allows you to refill prescriptions while traveling in your home country. You may also want to carry a small first aid kit in a hard case.
Toiletries
Carrying liquid toiletries in your carry-on luggage can be a challenge, as they must be TSA-compliant. Any liquids, gels, aerosols, creams or pastes are limited to the number of 3.4-ounce containers you can fit into a one-quart clear plastic zip top bag. Sometimes it's easier to just buy toiletries when you reach your destination, or to pack them in your checked luggage wrapped in zip top bags in case they leak during transport.
With that said, here's our toiletries summer packing checklist:
antibacterial wipes
cologne/ perfume
deodorant
facial tissues
feminine hygiene products
hair brush or comb
hair dryer (if one won't be provided at your destination)
hair ties, barrettes, or bobby pins
hairspray, gel, beard oil
insect repellant
makeup
moisturizer / lotion
personal hygiene items
personal mini mirror
scissors, nail clippers, tweezers
shampoo and conditioner (if you prefer to use your brands)
shaving kit with extra razors
sunscreen
toothbrush, toothpaste, floss and mouthwash
travel towel
Documentation
Missing documents can seriously interfere with your travel plans, especially if you're heading out of your home country. You should have the following in your carry-on baggage:
passports
any required travel visas
cash and credit cards
frequent flyer cards and other loyalty program card numbers
travel insurance information
reservations and itineraries (either printed or saved electronically on your phone)
hotel / tour contact information
air, rail, or bus tickets
maps and travel guides (you can use travel apps instead)
emergency contacts and important addresses
photos of luggage (in case of loss)
copies of any prescriptions
Many people make copies of their important information in case the originals go missing.
Electronics and Entertainment
Finally, we come to any electronics you plan on taking, along with entertainment for the trip:
cell phone / mobile device
cameras
extra glasses / contact lenses
extra memory cards and batteries for cameras
chargers and cords for all electronics
electric converters and adapters (if going overseas)
books and magazines
travel journal and pen
travel speakers
travel pillow
noise-reducing headphones
snacks for the trip
Bon Voyage!