---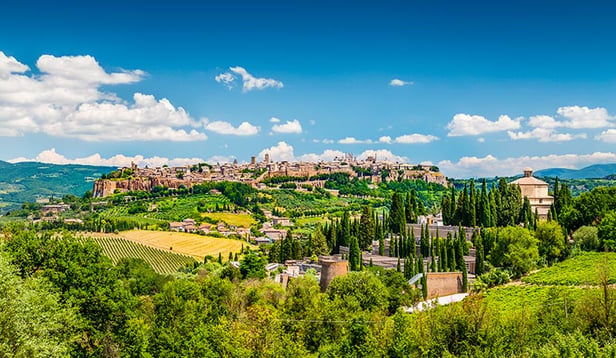 The small Italian town of Orvieto seems to have somehow escaped the temptation to give into progress. While other tourist destinations have a Starbucks on every corner and four-lane highways rush past ancient monuments, it's still possible to close your eyes and imagine this place the way it was centuries ago. Visiting here is a welcome change of pace from the hustle and bustle, a chance to pause in the midst of your Italian travels.
---
Orvieto is one of Italy's 23 "slow cities." Founded in 1999 as an offshoot of the slow food movement, these small towns are dedicated to preserving a simpler way of life. What that means for travelers is authentic local cuisine, smaller crowds, and little-to-no traffic in the historic cores.
Taking it slow is easy as you wander along Orvieto's cobbled streets and in its sleepy town squares. Tucked away behind towering walls, the city feels almost removed from the rest of the world. In fact, these 16th century fortifications that originally kept out bandits now prevent hordes of buses and motor coaches from entering the Old Town. Instead, travelers ascend to the city on elevators built into the walls.
As you stroll the streets of Orvieto on color-coded walking tours you will visit the town's ancient well with its fascinating double helix design and the Duomo, arguably one of Italy's greatest cathedrals. Explore the 440 caves of the Underground City and climb to the top of Torre Del Moro for a bird's eye view. And while these are all musts during your time in Orvieto, perhaps the city's greatest attractions aren't the ones you find in the pages of a guidebook. As one of Italy's great foodie destinations, its most beloved experiences are the ones had round the table. Savor the delicious Umbrian cuisine and the vintages from the many vineyards the city overlooks. Try the local red or a light-flavored white with some of the area's organic, locally-inspired dishes.
---
However, if you're thinking of putting off a trip to Orvieto, don't. Go now before the modern world catches up with this slow city. You can experience the charm and ease of Orvieto on YMT Vacations' Bella Italia Tour. This 10-day journey takes you from Rome to Florence, from Venice to Pisa. You'll see the Sistine Chapel, the Leaning Tower and Verona, the town Shakespeare made famous in Romeo and Juliet. To make your plans to join this journey, call your travel professional or YMT Vacations at 1-888-756-9072.
---