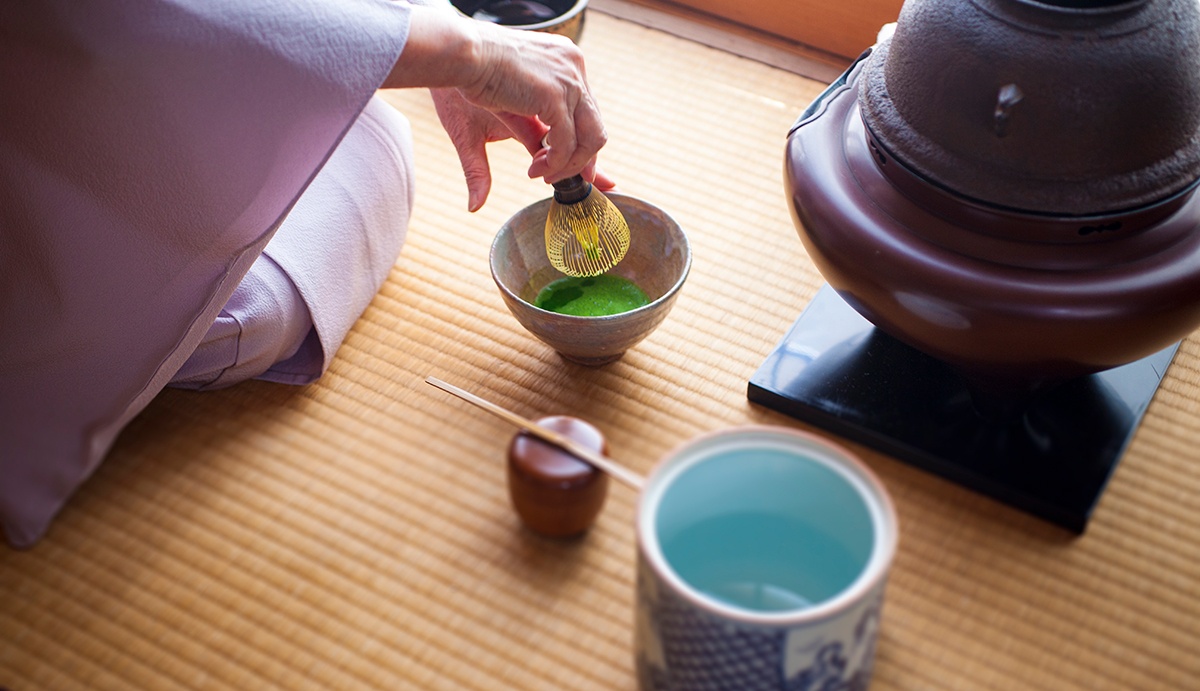 Matcha, or green tea, is not what most Westerners think of as the regular "cuppa." Matcha is thick, grainy and somewhat resembles pea soup. Chanoyu, or the way of tea, is the Japanese ceremony that celebrates this unusual drink. Far from simply pouring a cup of tea, the heavily symbolic ceremony requires years of training to perfect its ritualistic movements and prescribed order. Here's why you'll want to be sure to "take time for tea" on your upcoming travels to Japan.
---
The very picture of Japanese formality, chanoyu is at the heart of this nation's identity. Imported from China in the 12th century by Buddhist monks, it became a symbol of aristocratic wealth and cultural sophistication. Although the preparation has evolved, the order of the ritual is the same as it was centuries ago, a practice meant to convey wa, kei, sei and jaku—harmony, respect, purity and tranquility.
The ceremony takes place in a clean room devoid of furniture or decoration; the elegance of the ceremony comes from the tea itself and the meticulous preparation. It is performed by a woman dressed in an elaborate obi, and even the simple way the server moves the sleeve of her kimono to pour is considered to be part of the ritual. Chanoyu is done with such care and precision that if one server were to perform it opposite another it would be hard to detect differences in their motions.
The art of tea is a glimpse into an ancient culture that still exists throughout Japan, thanks to the oversight of very old families committed to preserving the practice. To experience more of this wonderful culture for yourself, we invite you to explore Japan on YMT Vacations' Treasures of the Far East Cruise & Tour. This 19-day journey features fascinating visits to Hong Kong and Tokyo, as well as a 14-night cruise aboard Holland America's ms Westerdam. For information or reservations, call your travel agent or YMT Vacations at 1-888-756-9072.
---