---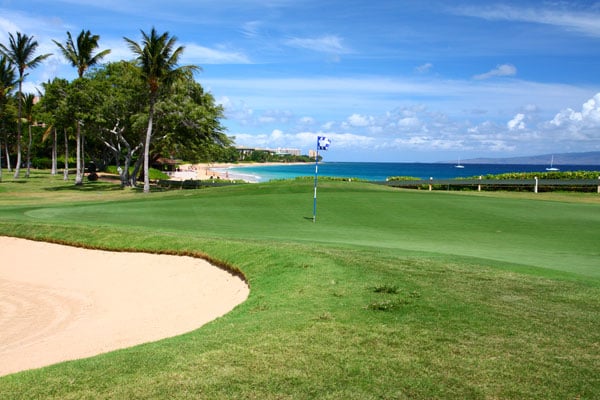 With postcard worthy views and year-round warm weather, the Hawaiian island of Maui is the perfect escape — especially for golfers. Here are the top things every golfer should know when playing in Maui:
1. Try Maui Golf Club Rentals
Save yourself the airline baggage fee and use the rental clubs available at most resort courses. Not only are golf club rentals affordable, many courses use the latest clubs from top-name brands.
2. Arrive Early
It's not every day even the most experienced golfers get to play in paradise so take the time to loosen up and practice your swing beforehand. You can get a bucket of range balls for a small fee or, if you're playing the course, often times at no charge.
3. Protect Yourself from the Sun
The soft island breeze can often mask the intensity of the sun's rays. Always wear sunscreen, reapply midway through the round, and remember to stay hydrated.
4. Be Prepared
While it's almost always sunny in Maui, it's also not unheard of to be caught in a passing sun shower. Make sure to bring along an umbrella and rain jacket.
5. Explore the Island
Maui is famous for its varied topography. You can enjoy playing in the West Maui Mountains, or head to Kapalua for jungle terrain.
6. Play with the Locals
You'll be hard pressed to find weekend morning green fees for 18 holes under $100. However, some of the best of Maui's public golf courses, like the Plantation Course, Pukalani Country Club, the Bay Course, The Dunes at Maui Lani, and Kahili Golf Club all let you play for less if you're with players from Hawaii who can show either a Resident Golf ID or either a valid Hawaii Driver's License or the Hawaii State I.D. Card. Most of Maui's courses offer a discount to locals, and many will extend that discount to all the members of the group. If you can't rustle up a group of locals, visitors to Hawaii can still find mid-week afternoon rates below $50.
7. Check for Discount Tee Times
Morning is peak tee time, but if you're looking to save, check the courses for afternoon, twilight, or nine-hole rates. Many of Maui's golf discounts are only advertised online, so look at the websites for seasonal and afternoon savings.
8. Silence Your Phone
Most of these world class courses encourage the use of your phone for taking and posting snaps of the gorgeous vistas. However, show proper etiquette and silence your device during the round.
9. Plan on a Cart
Carts are mandatory at most courses but included in the greens fee.
10. Play Early
The trade winds kick up later in the day so play early to avoid the breezes.
You can explore Maui and the other islands on a Hawaii cruise or land tour. We have multiple Hawaii vacation packages that depart year round. To learn more or to make your reservations, call your travel agent or YMT Vacations at 1-888-756-9072.