---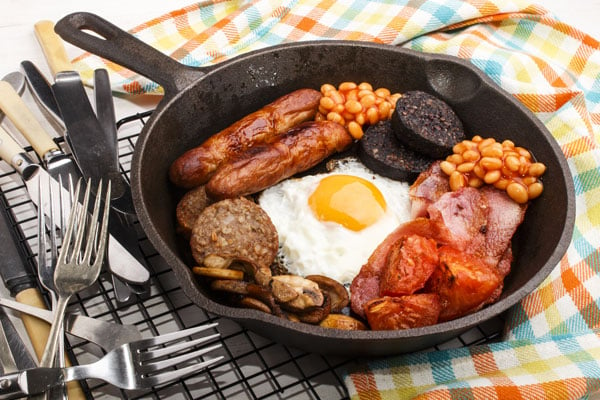 Also called a "full breakfast," the traditional Irish breakfast is more than filling -- it's downright overwhelming. There's an old saying that says "eat breakfast like a king, lunch like a prince and dinner like a pauper" and that's never been more true than with this generous plate of morning sustenance.
Pull up a chair and belly up to the table of a cozy pub in Cork, or any other city in the Emerald Isle, and you'll see what we mean.
How to cook aN Irish Breakfast
To begin, the cook slaps down a "knob" of Irish creamery butter into the frying pan. The sizzle and splatter may give your arteries cause for pause but your taste buds will sure perk up.

Then, a full loin of bacon or rashers hit the hot pan and cook until soft and just browned, but not crisply like we Americans are used to.

Next come the sausages, cooked until golden and mouth-watering, followed by beans, black and white puddings, tomatoes, mushrooms and chilled potatoes.

Finally, the whole mess gets topped with a fried egg and some Dubliner cheese.

A side of hearty Irish soda bread soaks up all the greasy goodness.
Originally, the meal was a way of preparing the farm hands for a hard day's work in the fields. Today, most Irish folks forgo the hefty meal on weekdays and indulge only on lazy Sunday mornings.
While there's a whole lot of debate on the exact make-up of the Irish breakfast, the main ingredients seem to be irrefutable with good, quality pork being the heart and soul of the dish.
Explore More Irish dishes with YMT Vacations
So if a visit to Ireland is in your future, make sure to order up either a full- or mini-portion of this traditional favorite. It's sure to give you the stamina and energy you'll need for a full day's travel throughout the green, bucolic countryside.
You can visit the Emerald Isle on a YMT Vacations guided tour of Ireland including the Best of Ireland itinerary. This escorted land tour features Dublin, the Ring of Kerry, Giant's Causeway, Belfast and other exciting Irish highlights. Those looking for a longer tour should look into the British Isles Cruise & Amsterdam Cruise.
To make your reservation, call your travel agent or 1-800-816-9752.