---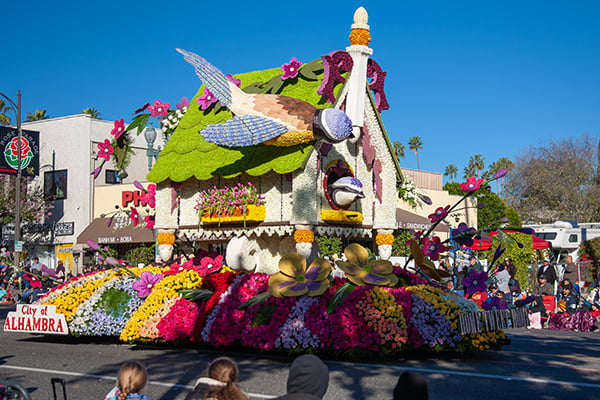 The Rose Parade is the "Grandaddy of them all," an American institution as synonymous with the New Year as fireworks or resolutions. But for many first-timers to this Pasadena tradition, there are a host of questions on the ins and outs of seeing it first-hand. If you're considering a trip to next year's event, here are our tips for the Rose Parade.
1. Take a tour — While you could easily attempt to see the parade on your own, the convenience and experience of going with an escorted tour group is invaluable. To begin with, to secure spots along the route, spectators often begin camping out a few days before the event. And, if you opt for purchasing grandstand seating instead, you will need to arrive before dawn to park, navigate the mayhem of the busy area, and make your way a mile or more to your seats. On the other hand, a tour operator, like YMT Vacations, offers premium grandstand seating and secured parking. That means you park as close as possible, minimize your walk time, and can arrive closer to the start time instead of in the dead of night.
2. Look beyond the parade — While the Rose Parade is the main event, there are other local traditions that are just as spectacular: touring the float building pavilions, the Battle of the Bands and the Tournament of Roses dinner.
3. Consider your side of the street — Sitting on the south side of Colorado Boulevard means you can avoid having the sun in your eyes throughout the parade.
4. The beginning isn't always best — Many visitors and tour operators clammer for seats at "TV Corner" at the beginning of the route. However, being there first also means you have to arrive very early and deal with large crowds of people. Opting for seats in the grandstands at the mid-way point lets you arrive later and it means the performers have had a chance to warm-up and perfect their routines before they reach you.
5. Questions? Look for a white coat — The "White Suiters" are the local volunteers who run the event. If you have questions, need directions or just want a bit of information, just ask. They are very knowledgeable and proud of their city's legendary parade.
YMT Vacations offers four Rose Parade tour packages, including several that combine the parade with other exciting American West destinations: the Rose Parade & Coastal California Tour, Rose Parade & Los Angeles Tour, Rose Parade & Mexican Riviera Cruise and the Rose Parade,Grand Canyon & Las Vegas Tour. For information, or to make your reservation, call your travel agent or 1-800-922-9000.
---