---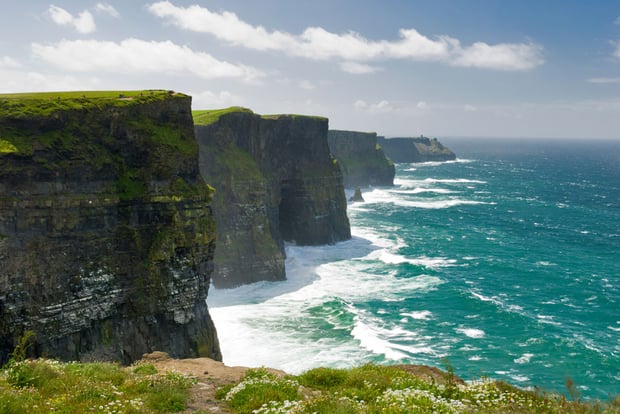 Early in the morning, before everyone arrives, there is a soul-stirring loneliness to the Cliffs of Moher. Seamist and fog shroud the limestone rocks and the cries of nesting seabirds are carried on the wind. For now it is gray and bleak. In this moment, time stands still.
As the sun rises and the curious arrive, there is an energy that breathes life into the scene. Lovers kiss and parents clutch the hands of squealing children who dare each other to peak over the abyss. The fearless lie on their stomachs and hang their heads over the edge while the more cautious view the sheer drops from the stone walkway.
The cliffs rise from a height of 390 feet above the Atlantic Ocean at Hag's Head to 702 feet above the ocean 8 kilometers to the north. Entirely vertical, they plunge into the churning sea below. From atop you can spot the Aran Islands etched on the waters of the Galway Bay and hear the sounds of more than 20 species of birds living in the craggy crevices of the rock. Keen observers of Harry Potter and the Half-Blood Prince may see a striking resemblence between them and the "Cliffs of Insanity."
There are many landmarks spread throughout the cliffs including O'Briens Tower, which sits at about the halfway mark. Built in 1835, the small tower is a great place for visitors to take in the view.

One of the newest additions to the site is the Visitor Experience at the Cliffs of Moher. The building, which is sunken into the hill and covered in grass, offers a unique dining experience at the Cliff View Cafe.

The Cliffs are also home to numerous indigenous creatures that you would be hard-pressed to find elsewhere but on an escorted Ireland vacation. Most notably, the cliffs house around 30,000 birds. One the most famous is the Atlantic Puffin, which has become a favorite creature among wildlife enthusiasts and amateur birdwatchers.
This UNESCO geo park offers unforgettable views and a dramatic backdrop for photographers. It is also one of the incredible stops on YMT Vacations' Best of Ireland Tour. To make your plans to join this once-in-a-lifetime adventure to the Emerald Isle, contact your travel advisor or call us at 1-800-816-9752.
---