---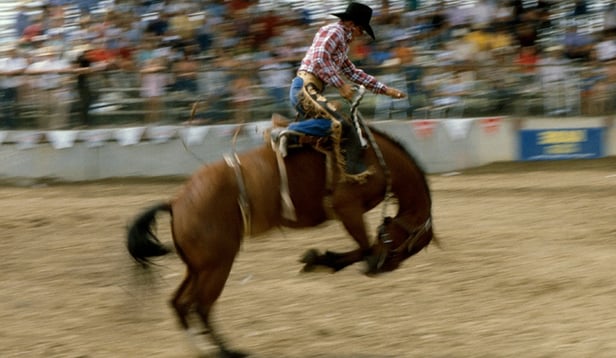 Since 1897 the small town of Cheyenne, Wyoming has hosted Frontier Days, an outdoor rodeo and western celebration that claims to be the largest of its kind. The event kicks off the Sunday before with the annual walking of the steers, where hundreds of animals are ushered some three miles into Frontier Park to await the festivities.
History of Frontier Days in Wyoming
When was the first Cheyenne Frontier Days? As the story goes, in 1897 Frederick W. Angier, an agent of the Union Pacific Railroad, was traveling through Cheyenne and watched as several cowboys attempted to maneuver a wild horse onto a stock car. So entertained by this was he, that he suggested to the editor of the local paper that Cheyenne should hold a roundup to show off the cowboys' skills.
Local leaders met in Tivoli Saloon and began planning what would eventually become known as Frontier Days. However, that first year, it was simply a cowboy roundup with steer roping, bronco busting, pony races, and a few other activities. Based upon its success, the following year was expanded to include an extra day of activities, as well as a parade.
It seems that each year proved more successful than the last, and expansion continued, as new events were added, attendance skyrocketed, and the festival's reputation soared.
Today, thanks to the vision of Mr. Angier and local town leaders, Cheyenne's Frontier Days is more popular than ever. Celebrated as the "World's Largest Rodeo," Frontier Days attracts professional cowboys from across the west who compete in skills competitions for prize money in excess of $1 million. If only ol' Frederick could see it now!
Top Things to Do at Frontier Days
Here's what you can do at the next Cheyenne Frontier Days:
The Daddy of 'em All
The Professional Rodeo Cowboys Association hosts the world's largest outdoor rodeo for 10 days each July. From bareback bronco racing to bull riding and barrel racing to the Dinner Bell Derby, there's no shortage of excitement at Frontier Days Wyoming.
The Grand Parade
Once just a wild gallop through the streets of town, the Grand Parade is now a centerpiece of Frontier Days. Gone are the unruly hooligans and the shoot 'em up antics of the past. In their place are world-class bands, horse-drawn carriages, and spectacular floats.
Wild West Heritage
Frontier Days celebrates the western heritage and culture of Wyoming. Step back in time at Old Frontier Town. Here merchants sell authentic handicrafts and kids ride the ponies while being entertained by period characters like Buffalo Bill Cody and Wyatt Earp.
Explore cowboy history at the Old West Museum and learn of the drama of the first rodeos. A Native American Village highlights the heritage of Native Americans with traditional storytelling, dancing, and an authentic Pow-Wow.
Midway Thrills
Enjoy the fun and excitement of an old-fashioned carnival with amusement rides, games of chance, and tempting fair food.
Evening Magic
The fun continues into the night with square dancing at the Buckin' A Saloon and country music concerts with headline acts like Blake Shelton, Eric Church, Luke Bryan and Miranda Lambert. Plus, don't miss the heart-pounding thrills of championship bull riding nights.
Planning Your Next Wyoming Vacation
You can experience Cheyenne's legendary Frontier Days on certain departures of YMT Vacations' Rocky Mountains & Black Hills National Parks Tour. This 10-day itinerary takes you to must-see western National Parks, from the majesty of Old Faithful in Yellowstone to the spectacular landscape of Grand Teton.
Visit Jackson Hole and the Teton Mountain Range, Mount Rushmore and the Crazy Horse Memorial. To make your plans to join us, call your travel consultant or YMT Vacations at 1-888-756-9072.