---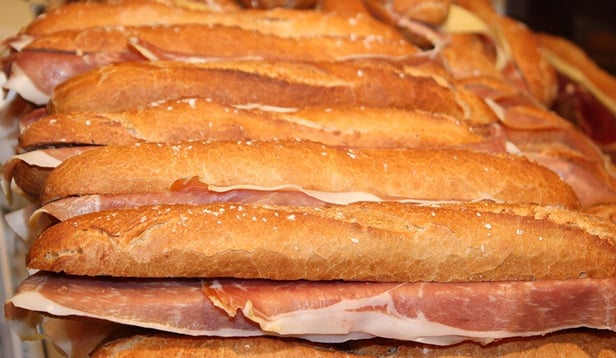 Have you ever had a meal so perfect you thought to yourself, "if this was the only thing I did on vacation, it would have been worth the trip?" Flavors so unforgettable you will forever judge every other plate by this standard? Imagine my surprise when I found my own culinary opus in a Parisian gas station.
---
Our flight into Paris had been delayed leaving the states so when we finally arrived I was tired, hungry and in desperate need of a shower. After a customs line that rivaled the DMV, we were finally packed into the smallest car I'd ever seen and on our way to the City of Lights. Looking for something to drink and directions, we pulled over at a gas station just outside of Charles de Gaulle and it was there I discovered the French ham sandwich.
With just three ingredients -- a skinny baguette, good ham and European-style butter -- the Jambon-Beurre is irrefutable proof that when it's done right, less truly is more. The sandwich is so deceivingly simple that it's easy to overlook its brilliance. You see, the success of this traditional mid-day meal wrapped in wax paper relies upon the quality of the trio of ingredients (or, if you really want to go overboard, you can throw on some nutty Gruyére cheese for a quartet of flavors). In fact, I would argue that the entire thing hinges not on the fresh-baked crusty French bread or the thinly-sliced ham but on the most incredible butter I've ever had in my life! Saltier and more flavorful that American butter, beurre shines because of the added fat that makes it a creamy dollop of heaven. One taste begs the question: if this culture can do so much with butter, how amazing is a gourmet dinner?
---
You can grab a Jambon-Beurre just about anywhere in France. From restaurants to street vendors, it is the highly-elevated French version of "fast food." While you're in Paris on YMT Vacations' Rendezvous on the Rhone, explore all the culinary delights: from flaky croissants to rich, decadent coffee, cream-laden sauces to hand made confections. This 10-day river cruise and tour features 5-nights on the Rhone River and 3-night hotel accommodations. You'll visit the Eiffel Tower, the Arc De Triomphe and Versailles Palace. Explore Dijon and Beaune, Avignon and Arels as you complete your travels through wine country and the heart of Provence.To make your reservation to join this once-in-a-lifetime itinerary, call your travel agent or YMT Vaations at 1-888-756-9072.
---