---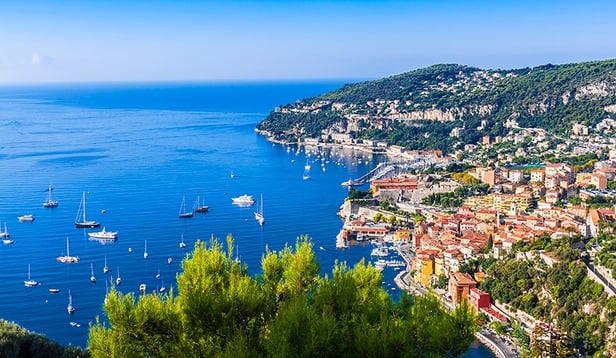 Where do you go when you dream? To a desolate stretch of beach with a single solitary sable palm? A towering castle high above the cobblestone streets of an Old European town? Or perhaps to a glamorous stretch of the Mediterranean where you go to see and be seen?
---
With YMT Vacations' French Riviera and Grand Transatlantic Cruise & Tour, you can live your dreams on a 27-day land and sea vacation. This bucket-list getaway begins with three unforgettable days in France before you transfer to the MSC Divina, your home for the next three weeks. From there you'll explore Rome and Civitavecchia, Italy as well as Marseille, France. Then it's on to Barcelona, Lisbon and the Azores before a luxury Transatlantic crossing.
Mid-way you'll discover Bermuda, where pink-sand beaches are set against a backdrop of pastel-colored architecture and fiery red sunsets are painted across a cloudless sky. On your two-night stop in this British Territory you can swim in a romantic grotto, explore the Royal Naval Dockyard, or simply stroll down an alley lined with oleander.
After returning to sea for the final leg of the journey, you'll arrive in New York City for an iconic stay in the Big Apple. Visit the Statue of Liberty and the Empire State Building. Stroll through Central Park and pay your respects at the 9/11 Memorial and Museum.
After you explore NYC it's back on ship to relax for two more days at sea aboard your luxurious cruise ship home. When your travels finally come to an end, you'll disembark in Miami where you're free play in the surf, dance the night away, or enjoy a Cubano sandwich in Little Havana.
---
This deluxe sailing includes all meals aboard the 22-night cruise, a three-night land tour of France including hotel and daily breakfast as well as sightseeing and a professional Tour Director during our land portion. To view departure dates or to make your reservations to join this unforgettable journey, call your travel agent or YMT Vacations at 1-888-756-9072.