---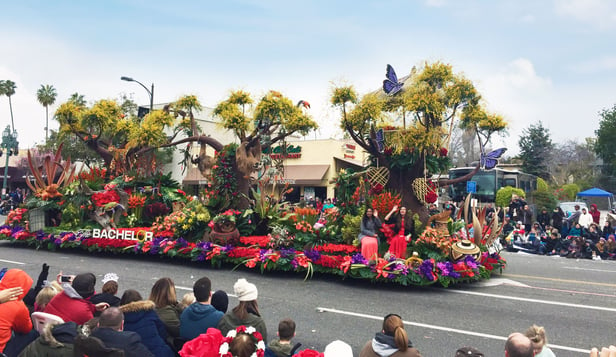 What began as a local parade to celebrate the year-round foliage and fair weather of Pasadena, California has turned into a national past-time. On the first day of every year, people across the country tune-in to watch as the shadow of a B-1 Stealth bomber flies overhead signaling the 8:01 start of the Tournament of Roses Parade. Once a small affair, the parade now features floats with amazing animation, special effects and more than 20 million flowers, 400,000 of them roses. And just like it has for the past 129 years, the air smells like roses, the volunteers wear white and, yes, it's still true, it doesn't rain on this parade.
Make your plans to join YMT Vacations for the 2018 Tournament of Roses Parade on one of our five legendary itineraries. Let us help you chose the one that's right for you:
Rose Parade & Coastal California Tour (9-days) -- Besides witnessing the stunning Rose Parade, you'll tour LA before following the scenic route of the California coastline through Santa Barbara, Big Sur, Monterey and Carmel. End your tour in the bustling "City by the Bay," San Francisco.
Rose Parade & Coastal California Tour (11-days) -- This expanded Coastal California tour gives you even more time in the "City of Angels," as well as stops at Hearst Castle, Pismo Beach and the unforgettable Alcatraz Island.
Rose Parade & Los Angeles Tour (5-days) -- In addition to an insider's view of the Rose Parade Float Pavillon and reserved grandstand seating for the 129th Tournament of Roses Parade, this journey takes you throughout sunny Los Angeles -- from the Chinese Theatre to the Hollywood Walk of Fame.
Rose Parade and Panama Canal Cruise (21-days) -- Travel along the Southern California coast, through Santa Barbara to Solvang and Pismo Beach, before setting sail. Your 14-night cruise features ports of call in five countries as well as an unforgettable daytime Panama Canal transit.
Rose Parade, Grand Canyon & Las Vegas Tour (10-days) -- This comprehensive itinerary takes you from the grandstands of the Rose Parade to a sunrise breakfast at the Grand Canyon, the glitter of Las Vegas and the Red Rocks of Sedona. You'll witness Montezuma Castle, Death Valley and Scottsdale before departing for home.
To make your plans to join any one of our spectacular Rose Parade itineraries, call your travel consultant or YMT Vacations at 1-888-756-9072.