---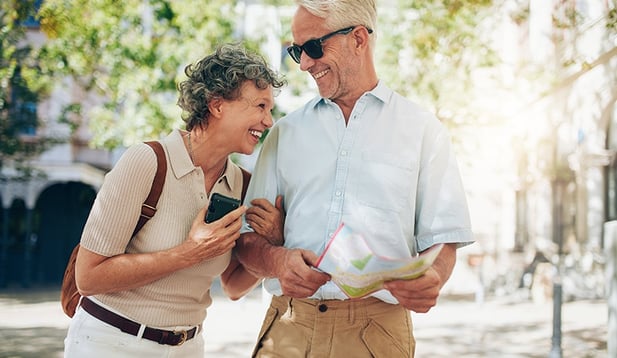 While weighing your suitcase for the third time to ensure it meets the airline's less-than-generous allowance, or scrambling to renew the passport you just realized was expired, it can be easy to forget why travel is a gift. We get so caught up in the details we forget what a privilege it is to experience our world. With Thanksgiving right around the corner, it's time to remember all the things we have to be grateful for -- and if you're fortunate enough to have some exciting travel experiences on your list, consider yourself doubly lucky. Here are some of the many reasons travelers have to be thankful:
---
Travel Gives Us a Different Perspective -- Most of us view history from our own perspective. Travel helps us see the other side and question our own biases.
Free to Travel -- Did you know that with an American passport you can go to more than 170 countries? Compare that to a passport from Afghanistan, which gains you access to less than 30. Not only is the world your oyster, but traveling helps you gain a new appreciation for what it means to be a U.S. citizen.
Thankful for Time -- Not only is travel a gift, but so is the time it takes. Travel helps us to slow down, relax and put our lives on pause, allowing us to return refreshed and ready for what comes next. Just remember, to fully appreciate the gift of travel, you have to make time. In the U.S. approximately 375 million paid vacations days are wasted each year -- that works out to an average of 3 days a year that go unused. What could you do with those 3 days?
Thankful for Resources -- If you have the ability to pay for a vacation, any vacation, you are blessed. In fact, Americans are in the top three countries in the world when it comes to traveling. You can thank our wanderlust to a high GDP, economic security and an education that makes us naturally curious.
Travel Makes Us Grateful for People -- Exploring the world makes us thankful for those who join us for the journey, and for the ones we meet along the way. From the random cab driver to the person beside us on the bus, chance encounters can happen anywhere -- even between people who don't speak the same language. Travel reminds us that what we have in common is often greater than our differences.
Travel Reveals Beauty -- This planet is an amazing thing. Whether you travel fifty miles away or halfway around the world, there's beauty everywhere you look. Go for a walk, take a bike ride or head off down the road less traveled -- there's more to see than just the view from the window seat.
Technology Makes it Easy -- With more than 15,000 airports in the U.S. and a host of budget airlines, travel is more accessible than ever. Add to that cell phones, WiFi, and smartphone cameras and it's also more convenient than ever.
Group Travel Takes Care of the Details -- With a packaged tour, like the ones offered by YMT Vacations, it's easier than ever to hit the road. The trip details are arranged for you, you enjoy the attention and care of a dedicated Tour Director and there's the added bonus of exploring the world with like-minded travelers -- all at prices that are far more affordable than you may think.
---
To learn more about YMT Vacations and the unique travel experiences that await you, call your travel professional or YMT at 1-888-756-9072.
---