---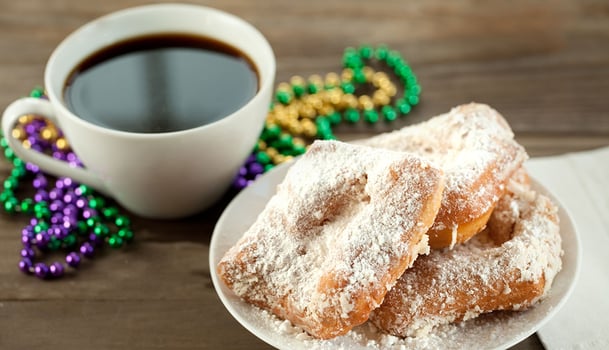 It's easy to spot someone who has just enjoyed their first beignet. Covered in powdered sugar and grinning from ear to ear, these new initiates are privy to the secret of the official state doughnut of Louisiana and a culinary lineage that dates back to ancient Rome.
---
Like most things that pepper the American landscape, the beignet originated somewhere else. As far as anyone can tell, it was with a fritter known as Scriblita, a Roman pastry made from moist dough boiled in animal fat. From ancient Rome the recipe traveled to France where cooks began working with a choux pastry that was moist enough to rise using steam rather than yeast. Later, some say beignets made the trip across the pond with Ursuline nuns while others credit their arrival to French settlers in the Arcadia region of Canada -- either way, the idea of this classic New Orleans dessert made it to the Crescent City in the 18th century and the rest is culinary history.
Today's beignets are square -- no holes in these doughnuts -- and served underneath a blanket of powdered sugar. The white powdery snow means you should never wear black when consuming them, and if you're sitting next to a prankster, well, just make sure you're prepared for the inevitable puff they may blow your way. So, grab a cup of strong chicory cafe au lait, a French phrase meaning "coffee with milk," and order up what is sure to be your new favorite treat.
Where to Eat Beignets
Now that we've tempted your taste buds, the next question is where to go for the best beignet in New Orleans. Most locals agree, these are the top contenders:
Cafe du Monde -- First opened in 1862, the original beignet stand along the waterfront of the French Market is a top tourist destination.
Morning Call -- New Orleans' "most famous coffee drinking place" has been serving up cafe au lait and beignets since 1870. Multiple generations have worked this eclectic establishment, which claims to be one of the world's great coffee houses.
Cafe Beignet -- Along with beignets and coffee, this local French Quarter tradition also serves up Cajun specialties and an all-day breakfast.
---
Since there's no definitive way to prove which beignet stand serves the city's best, you'll just have to take your own tour. Along the way you can fill up on the history, culture and music of the city. One of the best ways to experience New Orleans is on a YMT Vacations escorted tour. This great culinary city is featured on two of our favorite excursions: New Orleans & Western Caribbean Cruise, an 11-day land and sea combo vacation, and the Southern Music and Dixieland Tour, which also treats you to tours of Nashville, Memphis and the Jack Daniels Distillery. For information, or to join one of the upcoming tours, call your travel professional or YMT Vacations at 1-888-756-9072.
---