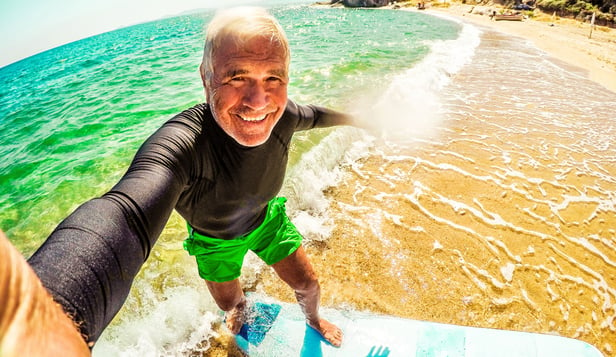 We live in a world of noise, always surrounded by people. That's why it's often a good idea to spend some time alone, getting to know ourselves. Traveling by ourselves gets us out of our comfort zone where we can meet new people, try new things and open ourselves to new and different experiences. Here are some benefits of going solo:
---
Learn About Yourself -- When you journey into the world alone, you begin to focus on yourself -- what you are capable of, what things interest you and where your heart is.
Talk to Strangers and Make New Friends -- When we have a companion, we tend to shy away from meeting new people. However, when we are on our own we are more eager to talk with locals and learn about their culture as well as interact with other travelers. Remember, just because you're a solo traveler doesn't mean you're alone. In fact, it's easier to connect with others when your attention isn't soley focused on the person you came with.
Go at Your Own Pace -- Not having to agree on travel plans and coordinate schedules with someone else can eliminate much of the stress of travel. Solo travel means you go where you want, when you want. Rest when you feel like it, take the tour that interests you most and enjoy dinner at the restaurant that awakens your taste buds.
Experience Something New -- Perhaps taking a solo trip is as simple as the desire to do something you've never done before. Whether you're recently single or just exploring a different side to your travels, going it alone lets you see the world in new ways and opens you to places you may have never gone before.
Overcome Your Fears -- Climbing the Spanish Steps or cycling through the narrow streets of Amsterdam are things you shouldn't miss. And the moment you realize that you accomplished these bucket list items all by yourself, with no one holding your hand, is when you know you've conquered the world. After that, what can't you do?
The Joy of the Journey -- Singles, especially widows and widowers, are often tempted to avoid travel now that there is no plus-one. However, travel is something that adds to the joy of life and combats feelings of loneliness and depression. In fact, a Dutch study reported in the New York Times revealed that the simple act of planning for a vacation can boost your happiness for eight weeks!
Be in the Moment -- Solitude can create mindfulness, making us more aware of what is happening in the present. By traveling alone, we are free from the distractions of everyday life and able to process what is happening on our own terms.
It's Safe -- If you use common sense and the necessary precautions, there's no reason to assume that solo travel is any more scary than traveling with a significant other -- especially when it's with a tour company like YMT Vacations. Group travel allows you the thrill of solo travel with all the security of a tour director who organizes the trip, handles all the details and coordinates interactions with like-minded travelers.
---
YMT Vacations lets you explore the world with group tours at low prices and unmatched value. Reliable, guaranteed and expertly run, our journeys let you travel the globe from Alaska to Europe, Hawaii to the National Parks of the United States and Canada. To learn more about our tours, unique travel experiences and how you can join us, call your travel professional or YMT Vacations at 1-888-756-9072.