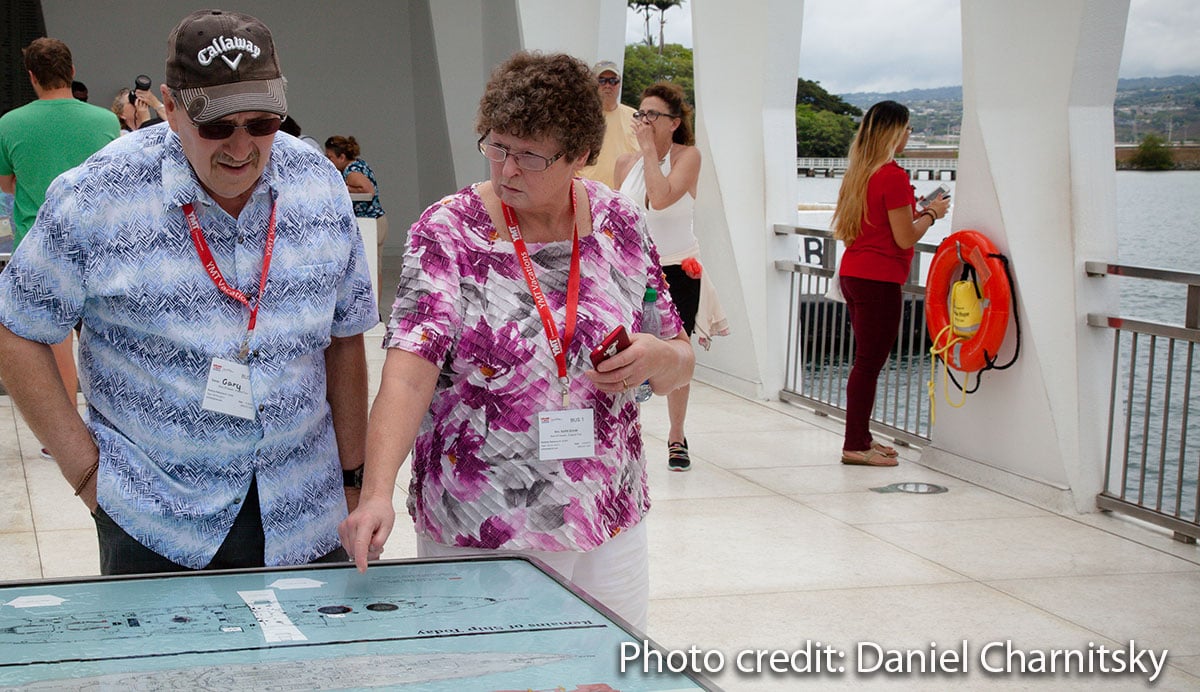 Visitors to Pearl Harbor expect to see the sobering sight of the USS Arizona Memorial. Lying on the floor of the Pacific Ocean, this sunken battleship is the final resting place for many of the 1,177 crewmen who perished in the attack and is the centerpiece of the Pearl Harbor Historic Sites. However, this is only part of what there is to experience during your time at Pearl Harbor.
As part of the WWII Valor in the Pacific National Monument, Pearl Harbor houses 5 national monuments: the USS Arizona Memorial, the USS Oklahoma Memorial, the USS Utah Memorial, Ford Island and Battleship Row. Here's what you'll see on your visit:
The Pearl Harbor Visitor Center and The USS Arizona Memorial—Your journey begins with a documentary film detailing the history, people and events surrounding the attack on Oahu. Afterward, you'll board a US Navy-operated boat that will take you from the Visitor Center to the memorial for a profoundly-moving view of the ship.
The Battleship Missouri Memorial—"The Mighty Mo" was the last American battleship ever built, and the location where the Japanese surrendered, ending World War II. Climb aboard this behemoth vessel and walk in the footsteps of General MacArthur, climb below deck for a look at the crew's quarters or enjoy a narrated tour that spans the ship's 50-year career.
The USS Oklahoma Memorial—One of the newer sites at Pearl Harbor, this memorial on Ford Island honors the crewmen who perished onboard. Black granite blocks hold up white slabs with the names of the deceased engraved in marble.
The Pacific Aviation Museum Pearl Harbor—Housed in 2 hangers, this museum ranks among the top 10 aviation attractions in the country. You'll enjoy a film before being ushered into Hanger 37 to see vintage World War II-era planes like a Japanese Zero and a Stearman N2S-3.
The USS Bowfin Submarine—Within walking distance of the Arizona Memorial, this site honors the "Pearl Harbor Avenger." Launched one year to the day of the events of December 7, 1941, the Bowfin sank 44 enemy ships and is now a National Historic Landmark.
Travelers with YMT Vacations can explore Pearl Harbor as part of the Ultimate Hawaii Tour with Pearl Harbor Experience. This 13-day journey takes you to the world-famous Waikiki Beach, Volcanoes National Park and the mystical Fern Grotto. You'll also enjoy the Circle Island tour and the King Kamehameha Feast—all at no additional cost. To join this unforgettable trip to Hawaii, call your travel consultant or YMT Vacations at 1-888-756-9072.