---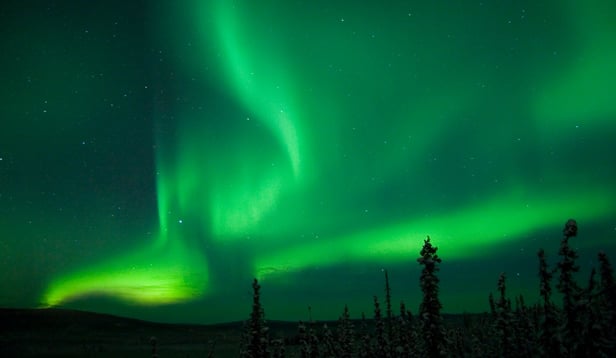 While many travelers head to Iceland, Norway, and Northern Scandinavia in search of the phenomenon known as the aurora borealis, you can spot the northern lights much closer to home. The Alaskan Arctic offers clear skies and a superior viewing location to witness this spectacular light show. Here's your insider's guide to experiencing our nations own northern lights:
Where to See Northern Lights
For the best chance to witness Alaska's northern lights, visit Fairbanks and inland towns located above the Arctic Circle. Since there are no guarantees you'll see the light show on any given night, maximize your chances by booking a multi-day visit to the aurora belt in the fall or spring. It's also important to avoid a full moon, which tends to wash out the view. Dark nights with clear skies between 10 p.m. and 2 a.m. are your best bet.
What to Do in Alaska
During the day, you'll enjoy getting out and about in the great expanse of Alaska. Travel to Denali National Park or explore the state's gold mining history, try one of the area's hot springs or perfect your photography skills while shooting the night sky.
What to Eat in Alaska
Before it became a movement, farm-to-table was a way of life for Alaskans. If you're visiting the Frontier State, plan on enjoying a variety of fresh, local cuisine: salmon, crab, caribou and wild berries like salmonberries. For a great place to sample the local game try the Loose Moose Cafe in Fairbanks where you'll still find reindeer burgers and steaks on the menu.
Don't Miss It
There are so many things you'll only see in the Frontier State. Don't miss your chance to watch a Glacial River surging by as meltwater spills from the mountains or marvel at the rosy Alpenglow that circles the peaks. Experience the "Alaska Factor" as you hike through a tundra landscape that seems to go on forever or brave the evening cold to see the 50 shades of green painted across the night sky.
---
You can experience the northern lights and a host of other Alaskan highlights -- from whale-watching to glacier cruises -- on a YMT Vacations land tour or cruise tour. The Alaska Northern Lights Tour and the Alaskan Discovery Tour offer the best chance to witness the unforgettable aurora borealis. For information on these specific itineraries and how you can join the fun, call your travel agent or YMT Vacations at 1-888-756-9072.
---