---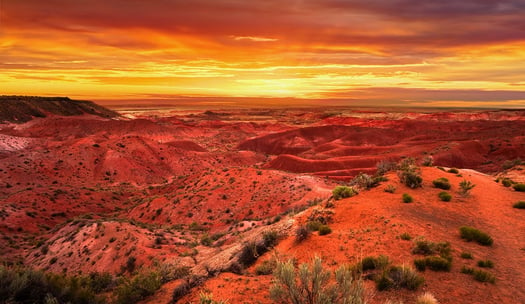 Our planet is a canvas upon which is painted the entire history of the earth. Volcanic eruptions, earthquakes, floods, even the constant warming of the sun, combine to change and reshape the landscape. Nowhere is this more evident than in Arizona's Painted Desert. These rocky badlands in the northern corner of Petrified Forest National Park are a work of art millions of years in the making. Across this vast area, a portion of which rests in the Navajo Nation, you'll discover every hue colored across the rockface -- from deep purple to crimson red, shocking orange to pale shades of pink. Here are some of the things you can expect to enjoy on your travels to America's Painted Desert:
Begin at the Visitor's Center -- Don't miss the Visitor Center, which offers a variety of hands-on exhibits and videos designed to help you understand the convergence of natural events that created The Painted Desert.
Stop by the Painted Desert Inn -- Perched on a mesa overlooking the colorful Painted Desert, this National Historic Landmark was once a trading post. Now run by the National Parks Service, it is a living museum situated along iconic Route 66. The inn often hosts local Native American artisans who hold demonstrations on handicrafts such as rug weaving and silversmithing.
Take a Hike -- With more than 93,000 acres, the park features a number of hikes of varying skill levels. For non-hikers, the 10-mile paved road offers an accessible way to view the rock formations, mesas, and natural fauna.
Be a shutterbug -- The American Southwest, and The Painted Desert in particular, offers some of the world's most enchanting landscape photography. Discover a vast amount of shoot locations, a variety of lighting situations and brilliant colors that will make your photos come alive.
Watch the sunset -- The colors of the park change almost hourly, but not nearly as dramatically as at sunset. There's nothing better than watching the sun paint the landscape as it dips below the horizon and seeing the rocks morph and change into fiery new shades.
The Painted Desert is just one of the stops on YMT Vacations Southwestern Tour & Balloon Fiesta journey. This thrilling 15-day excursion takes you from the red-rock wonders of Sedona to the Grand Canyon, the Old West lore of Tombstone to the picturesque vistas of Petrified Forest National Park. You'll also get to witness hundreds of hot-air balloons take to the blue skies over Albuquerque, New Mexico in the country's favorite balloon fiesta. To learn more, or to make your reservations to join us, call your travel agent or 800-922-9000.
---