---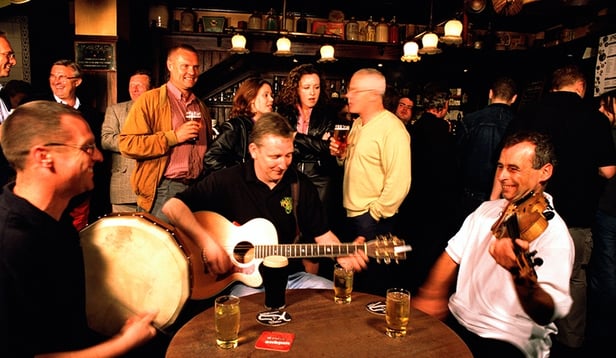 If Ireland had a sound, it would be a foot-tapping reel played fast and furiously over the raucous banter of a crowded pub. Often it starts slow and simple with just a guitar but before long fiddlers and accordion players, drummers and banjo strummers are quickening the pace.
---

With up-beat tempos that beg you to dance, and joyful tunes that are made for clapping, traditional Irish music is a sensory experience that dares you not to tap your toes and invites you to join in the fun.
In nearly every village, town, and city in Ireland you'll find a seisún, an informal gathering of musicians that congregate in local pubs around good friends and plenty of pints. Songs are learned as they always have been, passed down from generation to generation, and together these musicians create the soundtrack to Irish life. There are also céilí, another form of traditional Irish music, which is centered around dancing. Everyone from seasoned pros to visitors are invited to join in, and before long, everyone in the place is up and dancing a jig.
So the next time you find yourself in the Emerald Isle, grab a pint of the dark stuff and sit back and enjoy a pub session. From Dublin to Belfast, Cork to Galway, there's no shortage of music venues and plenty of opportunities for a tune. Try one of the summer music festivals or the bars around Miltown Malbay where the world's best gather for Ireland's largest traditional music school. Grab a seat on an outdoor deck or downstairs in a darkly lit bar. Fueled by drink, jokes and plenty of backslapping banter, the Irish craic agus ceol is what it's all about: "fun and music."
You can explore the best pubs for Irish music on your YMT Vacations getaway the Best of Ireland tour. This 12-day itinerary treats you to all the highlights from Blarney Castle and the Ring of Kerry to the Giant's Causeway and St. Patrick's Cathedral. To make your plans to join this exciting journey, call you travel consultant or YMT Vacations at 1-888-756-9072.
---