---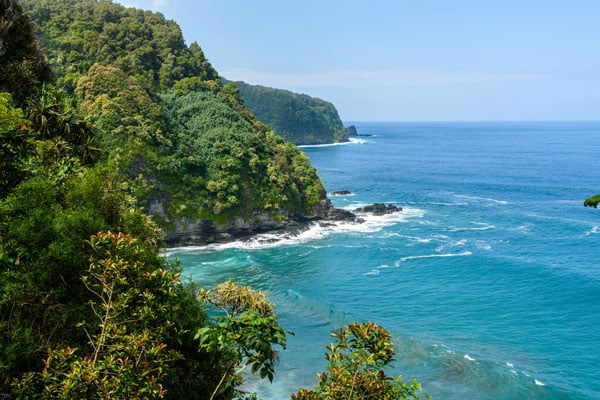 Somewhere off the beaten path, in a scenic sight not mentioned in the guidebooks, there's an old picnic table at the edge of nowhere where you can enjoy a picnic lunch in the closest you'll ever get to the Garden of Eden. The site is just one of the many unexpected treasures along the Hana Highway, a remote stretch of road that connects Kahului to Hana and then snakes its way up the mountain pass to the desert side of Maui.
---
As the road meanders through some of Hawaii's most pristine countryside, it passes through tropical rain forests, alongside crystal-blue ocean waters and across nearly 60 one-lane bridges. It is truly the jungle version of no-man's land; a place where when you pass a sign saying "last chance for gas," you should take it seriously. But for the adventurous sort who knows the secret to finding joy in the journey, it is unlike any other place on the planet. With hairpin, blind turns and black-sandy beaches, roadside fruit stands and small tree houses hanging from the canopy, this is the real Hawaii -- the one the locals keep to themselves.
---
After riding the Hana Highway, you discover an incredible secret: the road less traveled does make all the difference. So, the next time your travels take you to Hawaii, make some time to go exploring down a road that seems to lead nowhere. On YMT Vacations' Hawaiian Islands Cruise & Tour you'll spend a few glorious days in Maui where perhaps you might decide to sneak away, rent a Jeep and take a drive down the Hana Highway. This 12-day journey combines a week-long cruise with an exciting land tour. You'll visit Honolulu and the Punchbowl Crater, stroll Waikiki Beach and visit the moving USS Arizona Memorial at Pearl Harbor. To make your reservation to join this once-in-a-lifetime itinerary, call your travel agent or 1-888-756-9072.
---