---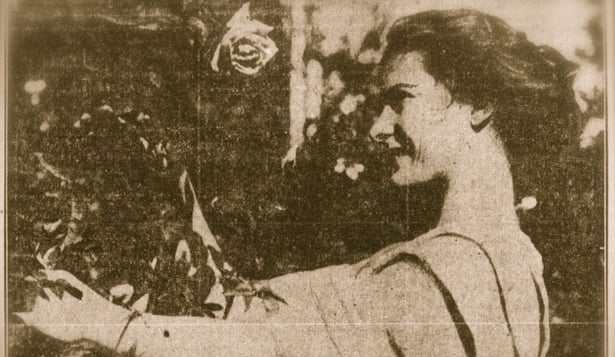 It was 1905 when a dark-haired girl named Hallie Woods sat solemnly on top of a float adorned with roses. Surrounded by a group of her classmates, this serious-faced student from Pasadena High school made her way down Colorado Boulevard to the cheers of the city. It was the first time in history a Rose Queen would make the storied trip. Ms. Woods was selected as the first Queen of the Tournament of Roses from among 16 other contestants, all of whom rode alongside her on a horse-drawn wagon she decorated herself.
---
Today, thousands of girls compete for the honor of being the Rose Queen -- a production that Ms. Woods could not have even fathomed those many years ago. In fact, back in those days members of court sewed their own dresses with the $10 they were each given to cover supplies. This year, the reigning queen will be wearing an elaborate ball gown created by a famous designer.
Although the parade, which is known as the "Grandaddy of them all," was first held on January 1,1890 the tradition of having a Rose Parade Queen did not take hold until 1905. It was not an annual even until the parade of 1930 -- making this the 100th time in history a Rose Queen has been crowned.
To qualify for the honor, girls participate in a month-long competition that includes a first-round introduction and interviews designed to narrow the field to seven Royal Court members. These finalists then spend a weekend in Newport Beach where they are closely watched by a committee charged with determining which girl emerges as the natural leader. She will be crowned the new Rose Queen.
To participate, contestants must be between the ages of 17 and 21 and live and attend school within the Pasadena City College district boundaries. The court is chosen based on each girl's poise, personality, public speaking, and scholastic achievement.
---
You can see the Queen of the Tournament of Roses for yourself this January 1 as the parade once again makes its way down Colorado Boulevard. Each YMT Vacations journey to the Rose Parade features a behind-the-scenes tour of the float building pavilions, admission to the Battle of the Bands and the Tournament of Roses dinner. Our guests also enjoy grandstand seating at an ideal location along the parade route, as well as convenient parking and guided assistance. For information, or to make your reservations, call your travel agent or YMT Vacations at 1-888-756-9072.
---