---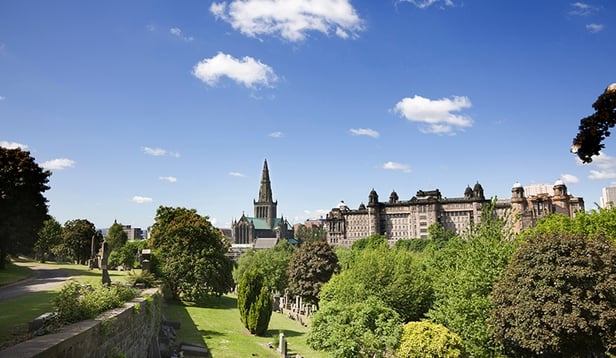 Just 50 miles from Edinburgh, Scotland's 'other city' should make every traveler's bucket list. Subtle and elegant, Glasgow is a mix of modern and classic architecture with a host of cultural offerings and elegant green spaces.
---
The compact city center is laid out on a grid that makes it pedestrian-friendly, while its proximity to the North Pole guarantees long, leisurely summer days -- with daylight that lasts up to 15 hours. Catch the views from Queen's Park or snap a photo of the picturesque Clyde Arc Bridge. Order some haggis with neeps and tatties or stroll among the city's historic tenements. Here are some of the things you must do while in Glasgow, Scotland:
Burrell Collection in the Park -- Tucked inside the Pollok Country Park, this museum features an extensive collection bequeathed to the city by Sir William Burrell, a wealthy Scottish shipping magnate and art collector. Set amidst a tranquil green space, it features Chinese, Islamic and Gothic art. Best of all, there's no cost to the public.
Glasgow Cathedral -- This Gothic landmark began as a 6th century chapel and is the city's oldest structure. Towering over the skyline and free to visit, it features some of the finest post-war collections of stained glass in all of Great Britain.
Style Mile -- This shopper's paradise extends from Argyle Street to Buchanan Street and on to Sauchiehall Street. With mostly pedestrian walkways, it is chock full of boutiques and bars, restaurants and nightclubs. After you've found your treasures, make sure to stop and listen to the street musicians who offer all sorts of musical renderings -- from jazz to Scottish bagpipes.
Pollok Country Park -- A peaceful setting in the midst of a bustling city, the park is known for the Burrell Collection, the Victorian Pollok House, and its herds of Highland Cows. Take a stroll along the river walks, visit the hobbit village or stop to pet one of the park's Clydesdale horses. It's a little bit of the country in an otherwise industrial city.
City Chambers -- Glasgow's municipal buildings are an excellent example of Victorian architecture. Enjoy the free 45-minute tour where you can explore the interior, gather some fascinating history, and even sit in Lord Provost's chair.
Kelvingrove Park -- A picture-perfect spot for a walk and a picnic on a sunny day. Enjoy a cup of Joe at the coffee shop or pop in the Glasgow Art Gallery next door. Walk along the river or happen upon some live music in a charming corner of the park.
Glengoyne Distillery -- A short drive from Glasgow, the distillery offers a chance to explore Scotland's famous whisky-making history with tours and samplings. Set amidst ambling fields, Glengoyne has produced Highland single malt whisky since 1833.
Barras Market -- A great place to mingle with the locals, Barras Market is a treasure trove of priceless finds and found bric a brac. Located in the gritty East End, the market is a mixture of street stalls, shops and pubs. You'll find hawkers selling everything from antiques and clothing to artwork and butchered meats.
---
You can explore Glasgow, as well as Edinburgh and the Highlands, on the YMT Vacations Sights of Scotland Tour. This 10-day journey takes you from Edinburgh Castle to Cairngorm Mountains, Loch Ness to the Isle of Skye. To make your plans to join this trip, call you travel consultant or YMT Vacations at 1-888-756-9072.
---