---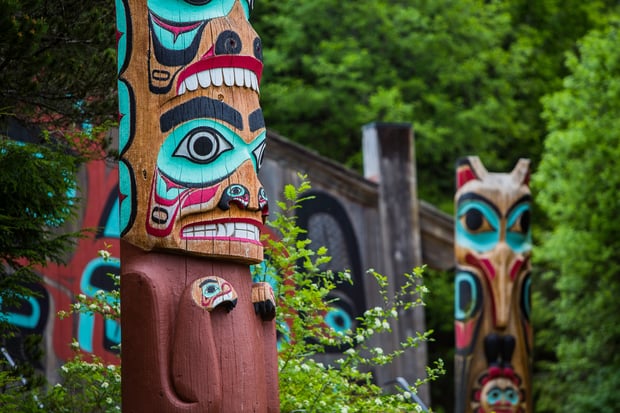 The city of Ketchikan, Alaska gets its name from a Tlingit word which means "thundering wings of an eagle."
Often called the "first city" for its location at the southern tip of the Inside Passage, Ketchikan is a charming harbor town with a bustling boardwalk, a peppering of stilted water houses and backed by the forested slopes of Deer Mountain. But perhaps what this small town is most celebrated for is its collection of more than 80 totem poles.
What are Totem Poles?
Totem poles are a Native American art form used to honor, document, and tell the stories of Alaska's past. There are mortuary poles, which honor the dead and heraldic poles, which use animals and mythical beings to recount the history of a clan. Potlach poles symbolize the generosity of a person who hosts a potlach ceremony or feast, and memorial poles commemorate an important person.
Each pole is carved and painted with "totems," or emblems, such as animals, creatures and plants believed to watch over the person or tribe. These guardian spirits revealed through pictography and symbols were thought to protect a Native Indian's home and showed the ancestry and social rank of the family.
Today, visitors to Ketchikan can explore these mystical art forms throughout the city. In fact, you won't have to go far at all before you find one of these many-faced totems looming over you. Look for the city's many totems in these areas of Ketchikan:
1. Totem Pole Parks
Throughout the city there are a number of parks that display totem poles outside, and often you can visit free of charge. In addition, you'll also find clan houses, carving sheds, and visitors centers, which tell the history of the poles.
2. Downtown Ketchikan
Downtown Ketchikan features more than four dozen totems out in the open. You can see the art forms for free while strolling about the area. To find them all, pick up a copy of the walking tour map.
3. Museums and Heritage Centers
The city has a number of museums which feature masks, blankets, photos and other Native American art forms including totem poles. Some of the most interesting are totems gathered from abandoned villages.
In addition, you can learn how totems are carved, how they were painted, the fascinating stories behind the images, and enjoy demonstrations of the art up close.
Visit the City of Ketchikan, Alaska
Ketchikan is a city with more totem poles than anywhere else in the world. To explore this fascinating Alaskan city, and its famous art, join YMT Vacations on one of our Alaska tours and cruises. These affordable vacations let you explore all the magic and wonder of the "Frontier State."
To join us on a tour, call you travel consultant or YMT Vacations at 1-877-483-8845 and mention promo code I7014.