---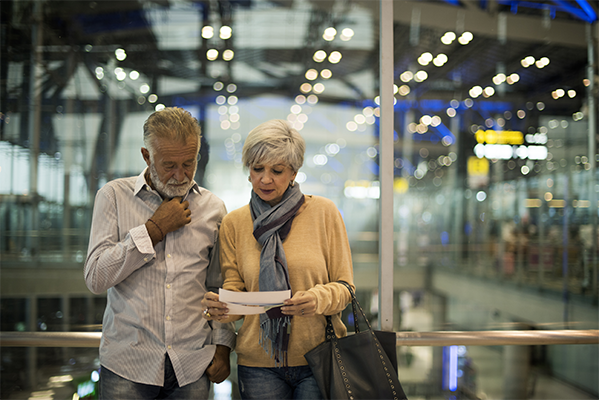 In just one week 3,189 readers logged onto Romeo Fernandez's TripAdvisor review of the hotels and experiences on his most recent YMT Vacations journey. His insight and advice into the Rose Parade, Grand Canyon Sunrise & Red Rocks Tour has now earned him his Senior Contributor badge and made this 77-year-old Canadian traveler a favorite of global explorers and a go-to source for newer, less-seasoned adventurers.
---
Here are a few tips he gathered from this latest vacation with wife Lunesa, and some advice he has for other seniors who are planning travels of their own:
Consider travel packages -- Not only does packaged travel save you money by bundling all the aspects of your vacation together, it also is considerably less stressful. "To arrange all the details on our own would cost more, take more time and may not include the exclusive experiences available with a travel company," Romeo said.
Don't wait. Travel now! -- "It's important to travel together as much as you can, as long as you can," Romeo said. "You never know how long you'll have each other."
Flex to save -- Since many seniors are retired, they can save money by being flexible with travel dates.
Ask for discounts -- Ask for a loyalty travel discount like the one that saved Romeo and Lunesa 5% off their vacation for their repeat business -- a savings that was added on top of other advertised specials. Another way to save on travel is to take advantage of referral programs like the one offered by YMT Vacations, which lets group organizers travel for free when arranging a trip for friends and family members.
Take advantage of local experiences -- The bucket list items can't, and shouldn't, be missed but you should also seek out experiences that give you a taste of the local culture. When in Los Angeles, the Fernandez family claimed that some of their favorite sights were local ones like the Reagan Library, the float-building barns at the Rose Parade, and a tour of the city's oldest Catholic Church.
Maximize travel budgets with add-ons -- If your travel company offers the option to add a secondary journey to your travels, consider it seriously. Not only can you prolong the fun, but you'll save money by only having to travel to the region once, like the Fernandez's did when they added a tour of the Grand Canyon and Red Rocks to their Rose Parade vacation.
Consider the pacing of your tour -- Travel can be tiring, especially for seniors. That's why Romeo recommends you "check with your tour company to see the pace at which the tour moves" and the amount of down time that is built into your travels.
Cruise versus land tours -- While both types of travel have their benefits, Lunesa likes to take to the seas since cruising means "you only unpack once!"
Go a la carte -- Many companies offer a la carte meal options, which allow you to purchase your own food rather than eating on a plan. For those on a budget, this allows you to choose less-expensive food options, pack your own snacks, and even pop into a grocery store for meals like the Fernandez's often enjoy doing.
Stretch your legs whenever you can -- Bus tours are a favorite with seniors and a good option for those with health concerns. However, Romeo recommends hopping off the bus when the opportunity presents itself to stretch your legs and take a walk.
Divide and Conquer -- According to Romeo, "she looks after our meals and I take care of the travel documents and pocket money. We're a successful pair." Making sure everyone has a task and is aware of their responsibilities ensures nothing gets missed and no one feels overworked.
Speak up -- Make sure to notify your travel company and tour director of any physical limitations that may impact your ability to travel with the group and always inquire about the activity level of the trip.
---
YMT Vacations offers a wide range of tours for guest of all ages, including seniors. Choose from land vacations, cruise and land tours and river cruise and tour combinations. We invite you to consult your travel professional or call YMT Vacations at 1-888-756-9072 to discover which of these trips is right for you.
---