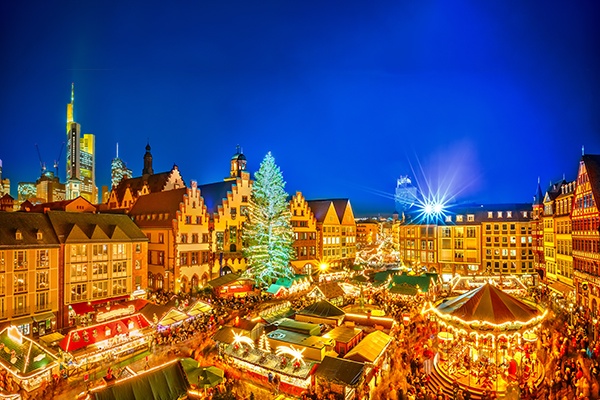 There's no better time to experience Germany than during the Christmas season when Deutschland sparkles with lights and merriment. Christmas markets are the epicenter of gemütlichkeit, or winter cheer. Each November and December, these festive celebrations dominate the town squares of nearly every city and hamlet.
Decorated market stalls spill over with handmade goods, seasonal food, and drink. There is an endless supply of ornaments, wooden toys, and weihnachtspyramiden, traditional candle-powered merry-go-rounds.
From the enormous Christmas tree in Munich to the Erzgebirge pyramid in Erfurt, German Christmas markets are the perfect places to get into the holiday spirit. The best way to learn about Germany's brightly festive season is to follow YMT's German Christmas market guide.
5 Things to Know About German Christmas Markets
There's no wrong way to enjoy a German Christmas market, but a sprinkling of insider knowledge can make the experience just that little bit sweeter.
1. Germany is known for quality craftsmanship
Pick up stunning homemade gifts for your friends and family back home. Beautifully made slippers, earthenware pottery, woolen hats, clocks, hand-carved holiday decorations, and Christmas ornaments are great choices.
2. Traditional flavors abound
Make sure to try apfelglühwein (hot cider spiked with apple brandy), fruit brandy liquors, grilled sausages, chocolate, gingerbread, and traditional mulled wine. Whether savory or sweet, don't miss these treats!
3. Glug Your Grog from a glühwein mug.
Mulled wine, or glühwein, is served piping hot in special commemorative mugs. Not only are these hefty cups great souvenirs, vendors will top them up at a discount. But revelers beware: avoid mulled wine on an empty stomach. It's usually topped up with rum or schnapps, and can really sneak up on you.
4. Buy Seasonal
When purchasing gifts, look for locally made goods only sold during the Advent. They tend to be the most special.
5. Check with local churches for Christmas concerts
Not only are they free, but church concerts often feature wonderful performances from the region's best amateur local musicians.
---
10 Best Christmas Markets in Germany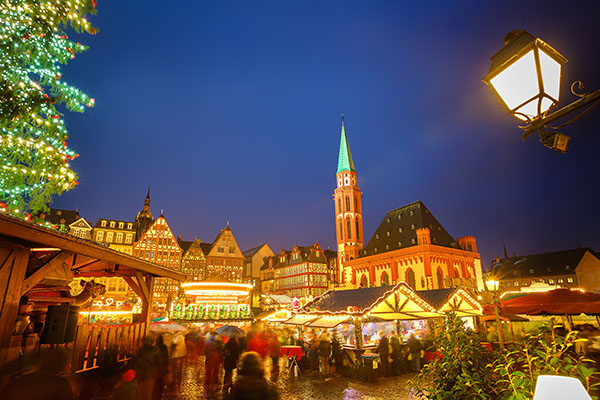 Now that you know what to look for, where are you going to go? Here are the best German Christmas markets to visit:
1. Dresden
Opened in 1434, the Dresden Striezelmarkt is Germany's oldest Christmas market. It is centered around a 45-foot-tall Christmas pyramid, a huge carousel, and the world's biggest nutcracker. Full of handicrafts, pottery, and handmade toys and ornaments, this market is particularly impressive.
2. Munich
The Munich Christmas market promises lights, nativity scenes, gingerbread houses, and delicious traditional food and drink. Head to the Mareinplatz to see Munich's staggeringly large, beautifully dressed fir tree that gives Rockefeller Center some competition.
3. Leipzig
Trumpet fanfares and a boys' choir welcome visitors to Germany's second-oldest market. Enjoy Christmas carols and a lively atmosphere while you shop for gifts and savor roasted chestnuts.
4. Nuremberg
Set along the cobblestone streets of Old Town, the Nuremberg Christmas market is made of garland-lined wooden stalls, old-fashioned carousels, and sparkling white lights. Along the checkered red and white tables, shop for vintage toys and arts and crafts, or snack on the roasted almonds whose sweet smells fill the crisp air.
5. Berlin
In addition to lavish holiday decorations and countless food stands, the Berlin Christmas market also offers an outdoor winter sports center. Take a loop around the ice rink or try your hand at the standout Olympic sport of curling.
6. Frankfurt
Frankfurt's vibrant Old Town draws Christmas market visitors to its charming timbered houses decorated with lights and wreaths. Make sure to stay for the "pealing of the bells," a beloved Christmas Eve tradition where the church bells ring across Old Town.
7. Cologne
The city's half-dozen markets feature more than 150 pavilions showcasing Bavarian food, vintage handicrafts, and traditional music.
8. Rothenburg ob der Tauber
While not the largest market in Germany, this might be its most romantic. The small Bavarian town has provided a fairytale backdrop for its local Christmas market for more than 500 years.
9.
Erfurt
The delightful town of Erfurt is already one of the best-preserved medieval villages in Germany. Add to its charm a spectacularly lit Christmas tree, a giant Erzgebirge pyramid, and a Nativity scene with human-sized figures for one of the most magical Christmas markets in Europe.
10. Stuttgart
Set in the shadow of the Old Palace, this is one of Germany's most traditional markets. It features 300 stalls, and serves a ravioli-like noodle specialty called maultaschen.
See Germany's Christmas Markets with YMT Vacations
You can explore Germany's best-loved markets with YMT Vacations. Our German Christmas Markets tour is the ideal way to celebrate the season and experience Germany's unique culture. To book, call your travel professional or YMT Vacations at 1-888-756-9072