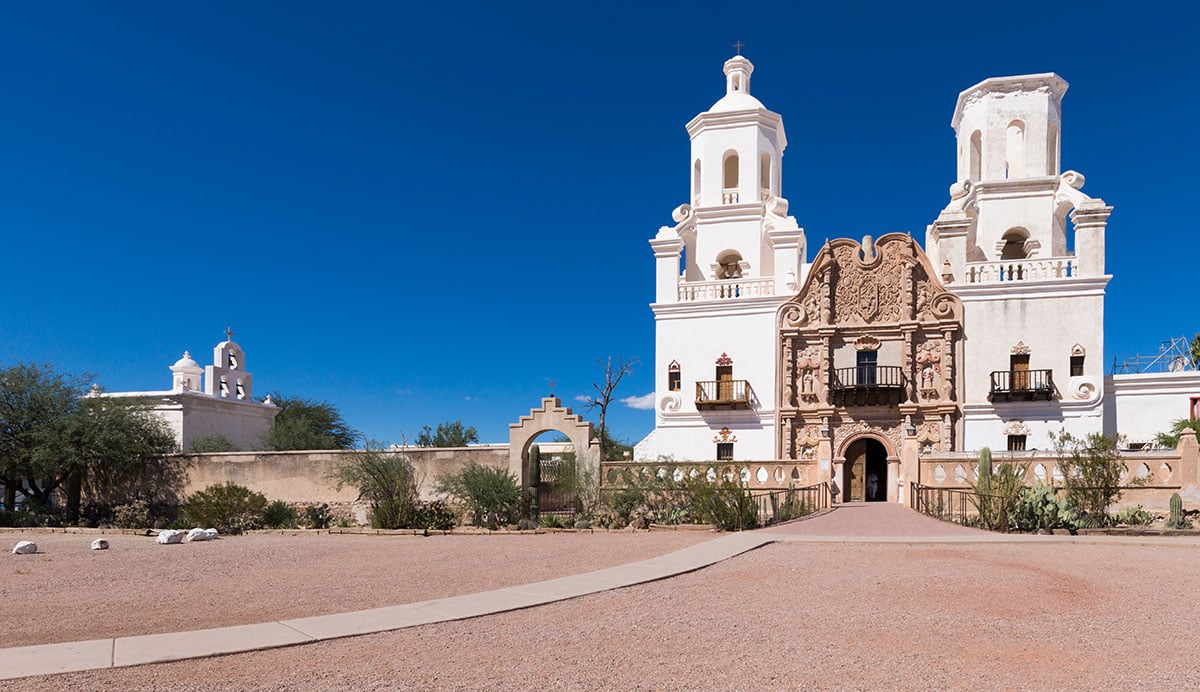 On the grand façade above the ornate door the San Xavier del Bac Mission, a stone-carved cat, eroded by years of wind and desert rain, crouches, ready to attack the mouse on the other side of the grand entry way. Legend says that when the cat finally eats, the world will end. Strange? Yes, but that's not the only oddity in the "White Dove of the Desert." The National Historic Landmark has been abandoned, survived an earthquake, and is home to an ancient relic thought by many to be a mummy..
Founded in 1692, San Xavier has stood beneath the flags of three countries and is still an active parish for the Tohono O'odham tribe. Sometimes called the Sistine Chapel of the United States, the church is arguably the finest example of Spanish colonial architecture in the country. Imagine Byzantine walls adorned with frescoes, and paintings made by missionaries more than two centuries ago.
Surrounded by mountains and giant saguaros, San Xavier del Bac is part of a chain of missions that pepper the Southwest. Just south of Tucson, it sits on an Indian reservation where travelers can visit a marketplace and shop for indigenous crafts. It's also a popular stop for photography buffs looking to capture the stark-white stucco contrasted against the muted desert landscape. Just make sure to look up to see how the cat and mouse are doing.
You can see the White Dove of the Desert on YMT Vacations' popular fall Albuquerque Balloon Fiesta & Southwestern Tour. You'll experience White Sands National Monument and the famous Balloon Fiesta, Carlsbad Caverns and the rich art scene of Santa Fe. It's an ideal way to explore the history and culture of the Southwest while the leaves are in full color and the weather is at its finest. For information, or to make reservations for this 10-day journey, call your travel consultant or YMT Vacations at 888-978-7406.